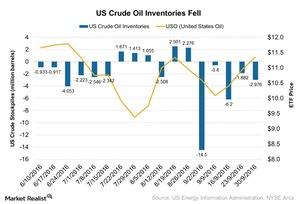 How Inventories and OPEC Decision Are Affecting Crude Prices
US crude oil inventories
According to the EIA's (U.S. Energy Information Administration) report on October 5, 2016, US crude oil inventories fell 3.0 MMbbls (million barrels) for the week ended September 30, 2016. Markets expected a rise of 2.4 MMbbls. In the previous week, inventories fell 1.9 MMbbls.
The United States Oil (USO) rose 2.3%, and the ProShares Ultra Bloomberg Crude Oil ETF (UCO) rose 4.6% on September 30, 2016, after the announcement of the crude oil inventories report. Crude oil prices (USO) generally react positively to a fall in inventories. On the other hand, a rise in inventories would indicate that the supply glut position is increasing and could add more uncertainty to the movement of crude oil prices.
Crude oil prices touched a five-month high on October 5, 2016, after the announcement of the inventory report. OPEC's production cut decision also supported the movement of crude oil (UWTI) (DWTI) (BNO).
Article continues below advertisement
OPEC decision
On September 28, OPEC announced the outcome of its meeting. OPEC members decided to cut output for the first time in eight years. They decided to cap output at 32.5–33 MMbpd (million barrels per day). However, the market didn't expect a production cut. Crude oil (UWTI) (BNO) (DWTI) rose more than 5% after the deal was announced.
Francisco Blanch, head of global commodities and derivatives research at Bank of America Merrill Lynch, said that his firm maintains a $61 average crude oil (USO) (UWTI) price forecast for 2017. According to the IEA's (International Energy Agency) forecast, the world oil demand could be 97.0 MMbpd in 4Q16. In 2Q16, the world's total oil demand was 95.6 MMbpd. In the same quarter, total crude oil supply was at 95.9 MMbpd. If OPEC limits its production to around 33 MMbpd, we could see a rise in crude oil demand by 1.4 MMbpd in 4Q16 compared to 2Q16. To learn more, read Why the OPEC Agreement Matters to Oil Investors.
If OPEC members can outline and agree to specifics of the production cut at its November meeting, we might see positive movement for crude oil (UCO).
In the next part of this series, we'll analyze the performance of the non-farm payrolls in September 2016.