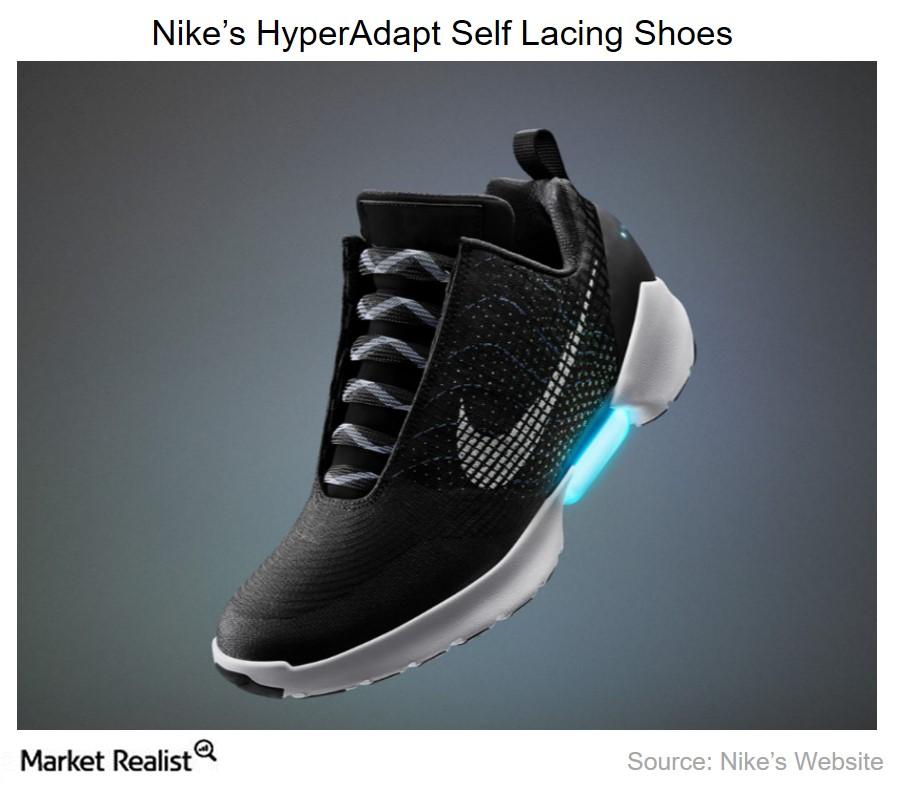 Can Nike Regain Footing with Its Adaptive Lacing Footwear?
Nike gearing up to launch its adaptive lacing footwear
In early March, Nike showcased its new self-lacing footwear—inspired from the shoes worn by Michael Fox in Back to the Future II. Also known as "HyperAdapt 1.0," the shoes automatically tighten up when the foot is placed inside them. Nike plans to launch its HyperAdapt platform in select retail stores in the US starting on November 28. Reportedly, the company has been working to develop this technology since Back to the Future II was released in 1988.
Article continues below advertisement
Article continues below advertisement
What Nike has to say about its innovation
The HyperAdapt innovation highlights Nike's constant endeavor to stay ahead of the rest of the industry. Nike's shoe designer Tinker Hatfield said, "We're able to anticipate the needs of athletes because we know them better than anybody. Sometimes, we deliver a reality before others have even begun to imagine it."
What are the new shoes all about?
Each of the HyperAdapt shoes has a sensor attached to an internal cable system. Once the foot is placed inside, the cables automatically tighten up based on an algorithmic equation. Each side of the shoe has a pair of buttons, which can be used to adjust the fit. The shoes have to be recharged every two weeks. Nike provides a magnetic charger. It takes about three hours to charge the shoes.
The price of the product hasn't been disclosed yet. However, it's expected to have a high price tag. Initially, the shoes will be sold exclusively to Nike's loyalty program members through appointments.
Why is it important to Nike?
The HyperAdapt technology is the first of its kind and surely ahead of its time. If it's successful, it has the potential to change the way that shoes are worn. It could start a new era in the athletic footwear industry. It could also be a game-changer for Nike by driving sales and boosting its pricing power. The company might steal its market share back from Under Armour (UA), Adidas (ADDYY), and Lululemon Athletica (LULU).
ETF investors seeking to add exposure to Nike can consider the Vanguard Dividend Appreciation ETF (VIG). VIG invests 1.9% of its portfolio in Nike.