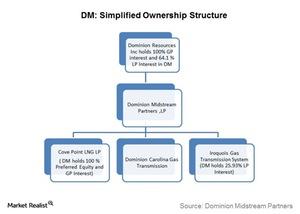 What Will Drive Dominion Midstream Partners's Growth?
By Rekha Khandelwal, CFA

Sep. 14 2016, Published 7:50 p.m. ET
Cove Point LNG plant
Dominion Midstream Partners's (DM) Cove Point operations consist of LNG (liquefied natural gas) import and storage services and transportation of natural gas and regasified LNG. Cove Point is in the process of constructing a liquefaction project, which will consist of one LNG train with an outlet capacity of 5.25 Mtpa (million metric tons per annum). It is expected to be placed in service in late 2017.
Article continues below advertisement
One of Dominion Midstream Partners's (DM) primary cash flow sources is its preferred equity interest. This entitles it to preferred distributions as long as Cove Point has sufficient cash and undistributed net operating income. DM is also entitled to additional distributions and should benefit from the expected increased cash flows and income associated with the liquefaction project once it is completed.
Cove Point currently generates earnings from long-term contracts with firm reservation charges for the regasification and storage capacity of the LNG facility. The company expects substantially higher cash flows from the liquefaction project, once completed.
Dominion Midstream Partners, an MLP formed by Dominion Resources (D) in October 2014, provides natural gas terminaling, processing, storage, and transportation. Dominion Midstream acquired the preferred equity and the general partner interest in Cove Point LNG facility from Dominion Resources. Dominion Midstream's business includes LNG import, liquefaction, storage, and transportation.
Other assets
Dominion Carolina Gas Transmission (or DCG) is a wholly owned subsidiary of DM. DCG operates ~1,500 miles of natural gas transmission pipelines. Dominion Midstream also holds a 25.9% interest in Iroquois, which owns and operates an interstate natural gas pipeline.
In this series, we'll take an in-depth look at DM's stock performance, key financials, and operational metrics. Finally, we'll look at DM's valuation compared to its peers and discuss the stock's attractiveness.