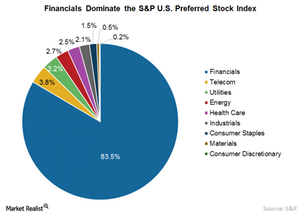 Why Preferred Securities Attract Investors
By VanEck

Sep. 6 2016, Published 3:28 p.m. ET
As the search for yield continues, preferred securities have become a beacon of potential income. However, a large proportion of the preferreds universe, approximately two-thirds, is made up of traditional financial companies, including banks.[1. Source: Wells Fargo, Bloomberg. Data as of July 31, 2016. Based on the Wells Fargo® Hybrid and Preferred Securities Aggregate Index (Preferred Securities, WAGG).] Some investors may want to limit their exposure to financials or avoid them all together. Fortunately, excluding financials from a portfolio of preferred securities does not have to mean sacrificing yield potential and may help overall diversification.
Article continues below advertisement
Market Realist – Financial firms dominate preferred securities 
Preferred securities (PFXF) are some of the most popular investments around. They appeal to investors seeking higher yields in a world of falling and even negative interest rates. Preferred securities (PFF) have some shared features with stocks as well as bonds. Just like stocks, preferred securities (PGX) have a claim on a company's assets and earnings after bonds—but they have a higher claim than common stocks. Like bonds, preferred securities (PSK) must be paid regular dividends before payment to common stockholders. As with bongs, preferred securities usually aren't entitled to voting rights.
Preferred securities normally provide higher returns than fixed-income securities such as US Treasuries or investment-grade bonds. However, the higher yields come with some concentration risk because of financial (XLF) firms' dominance in the issuance of preferred securities. Though companies in the utilities and telecom sectors also issue preferred securities, they have minuscule weights compared to financials.
The breakdown by sector of the S&P U.S. Preferred Stock Index shows that financial firms dominate the index with a weight of 83.5%, followed by companies in the telecom (3.8%), utilities (3.2%), energy (2.7%), and healthcare (2.5%) sectors.