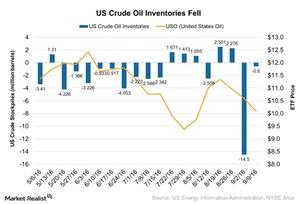 How OPEC's Decision Will Impact Crude Oil's Movement
US crude oil inventories
According to the EIA's (U.S. Energy Information Administration) report on September 14, 2016, US crude oil inventories fell 0.6 MMbbls (million barrels) for the week ending September 9. The markets expected a rise of 4 MMbbls. The fall in the week ending September 9 compares to a decrease of 14.5 MMbbls in the previous week.
Crude oil prices (USO) generally react positively to a fall in inventories. On the other hand, a rise in inventories indicates that the supply glut is increasing, which adds more uncertainty to the movement of crude oil prices. After the announcement of the crude oil inventories report, the United States Oil (USO) fell 2.7%, and the ProShares Ultra Bloomberg Crude Oil ETF (UCO) fell 5.2% on September 14. Investors are waiting for the outcome of this month's oil producer meeting where major oil producers will make a decision about a production freeze.
Article continues below advertisement
OPEC secretary general comments
The secretary general of OPEC (Organization of the Petroleum Exporting Countries), Mohammed Barkindo, said on Saturday that members wouldn't make decisions during the informal talk. He said, "It is an informal meeting, it is not a decision-making meeting." According to him, OPEC members will try to make an estimated actionable plan on the last day of the International Energy Forum in Algiers. He believes that afterward, OPEC members might call for an emergency meeting to make any decisions if all members agree with the plan.
Barkindo's comments are increasing speculation that there might not be a production freeze at the OPEC meeting. If the production freeze doesn't happen, then we might see some downward pressure on crude oil (UWTI) (BNO) (OIIL).
In the next part of this series, we'll analyze US industrial production for August 2016.