Novo Nordisk Continues to Be a Leader in the Global Insulin Market
Accounting for a ~46% market share, Novo Nordisk (NVO) is expected to continue to benefit from the positive trends in the global insulin market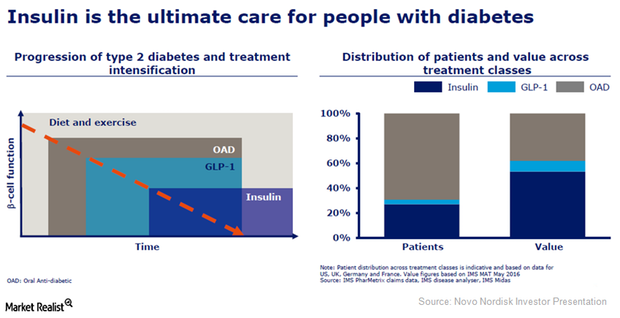 Global insulin market
The diabetes care market has three categories: insulin therapy, Glucagon-like peptide-1 (GLP-1) therapy, and oral anti-diabetic drugs. The increasing prevalence of diabetes due to rises in obesity and the aging population has fueled demand for insulin therapies around the world.
Insulin sales are also expected to benefit from improvements in diagnostic methods for diabetes and the increased tendency of physicians to prescribe intense insulin regimens to patients.
Notably, the Market Vectors Pharmaceutical ETF (PPH). Novo Nordisk makes up about 4.8% of PPH's total portfolio holdings.
Article continues below advertisement
Article continues below advertisement
Value in the insulin market
The above diagram shows that as time progresses, insulin becomes the final treatment option for type-2 diabetes patients. We can also see that while insulin is being used to treat less than 30% of the global diabetes patients, it accounts for around 55% of the total value in the diabetes market.
Accounting for a ~46% market share, Novo Nordisk (NVO) is expected to continue to benefit from the positive trends in the global insulin market and pose strong competition to other diabetes care players such as GlaxoSmithKline (GSK), Eli Lilly (LLY), and Sanofi (SNY).
Segments in the insulin market
The insulin market is divided into three segments: fast-acting or rapid-acting, premix, and long-acting therapies, depending on the time of the day when the patient takes the therapy. According to IMS Monthly MAT volume and value May (DKK) figures, in May 2016, fast-acting, premix, and long-acting therapies accounted for 39%, 27%, and 34%, respectively, of the total global insulin market.
With NovoRapid in the fast-acting insulin segment, NovoMix in premix insulin segment, and Levemir in long-acting insulin segment, Novo Nordisk boasts of a portfolio that can cater to all the insulin needs of its diabetes patients.
Continue to the next part for a look at how growth trends in the insulin market are expected to benefit Novo Nordisk.