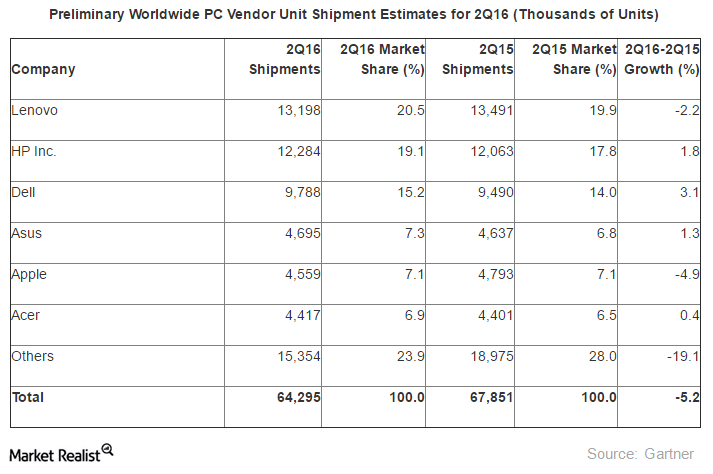 Why Microsoft Partnered with Lenovo
Microsoft deepens its partnership with Lenovo
So far in this series, we've discussed the sale of Microsoft's (MSFT) Chinese web portal and how, despite anti-trust issues, Microsoft will continue to deepen its ties with China. In continuation of this strategy, Microsoft extended its partnership with Lenovo (LNVGY) and announced that "Lenovo will load Microsoft's productivity apps—including Microsoft Office, OneDrive, and Skype—on select Lenovo devices that use the Android operating system."
According to Nick Parker, corporate vice president OEM (Original Equipment Manufacturer) Division, Microsoft, "The marriage of Microsoft's apps and Lenovo's Android-based devices will enable customers around the world to be more productive, more connected and achieve even more."

Article continues below advertisement
Improving its stance in the PC space
Lenovo is a leading vendor in the PC space. Despite its increased focus on cloud, Microsoft still generates the majority of its revenue from the PC market. By partnering with the leading player in PC space, Microsoft intends to improve its position in the PC space. (Check out Market Realist's "Why Is Microsoft so Focused on the Gaming and PC Markets?" to know more.)
Later in the series, we'll discuss company's recent strategic acquisitions, which on integration with Microsoft's Office will enhance their capabilities and reach.
Deepening presence in China
Microsoft's extended strategic partnership with Lenovo is its way of strengthening its presence in China. Microsoft already has partnerships with leading companies in China (FXI) including Baidu (BIDU), Tencent Holdings, and Xiaomi.
In the tech sector particularly, patents are looked upon as a barometer for judging a company's expertise and technological value relative to its peers. According to IFI CLAIMS Patent Services, IBM (IBM) topped the Top 10 US Patent Recipients in 2015. Moreover, it holds the title of being the company with the maximum patents for 23 consecutive years.
In the past, Microsoft has entered into several strategic partnerships to push its Cloud Computing platform, Azure, but also to venture into rapidly growing and disruptive areas like blockchain technology.
Now let's take a closer look at Microsoft's acquisition spree.