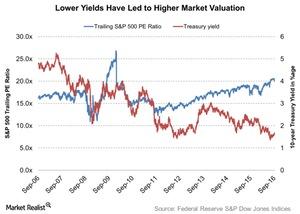 How Lower Interest Rates Elevated Market Valuations
By Russ Koesterich, CFA

Dec. 4 2020, Updated 10:53 a.m. ET
The bad news is that the gains, which are coming against the backdrop of a prolonged earnings recession, have been entirely driven by multiple expansion. In other words, investors are willing to pay more per dollar of earnings. From the lows earlier this year, the trailing multiple on the S&P 500 (IVV) has risen by roughly 22% (source: Bloomberg).
The rapid ascent in the market multiple has left stocks expensive. The S&P 500 (SPY) (IVV) is now trading at 20.2x trailing P/E (price-to-earnings), well above the historical average of 16.5x, according to Bloomberg data. While investors can partially justify this on the basis of a lower discount rate, i.e. low-interest rates, it is worth highlighting that even in the context of low rates, valuations are elevated. Yields have been consistently low, averaging 3.2% for the 10-year Treasury Bond (IEF), since 2003 (source: Bloomberg). During this same period, valuations have still only averaged 17x trailing earnings.
Article continues below advertisement
Market Realist –How interest rates affect the market's valuations
As we can see in the graph above, the 10-Year Treasury bond has fallen at an average of 2.2% per year since 2006. On the other hand, the market is trading at a trailing PE (price-to-earnings) multiple of 20.2x. Falling yields have led market valuations to rise by 27% since 2006. The current 10-Year Treasury bond yield is 1.7%. It hit an all-time low of 1.4% in July 2016.
Lower interest rates have an inverse relationship with stock prices, so when interest rates are lower, the S&P 500's trailing PE multiple rises. This inverse relationship between market valuations and interest rates has proven true in the last three years.
The correlation between the S&P 500's trailing PE ratio and the 10-Year Treasury bond rate is -0.72 from September 2013 to the present, which shows that lower interest rates ultimately cause a rise in market valuations. 
However, lower interest rates aren't likely to support stocks unless they're coupled with earnings growth. Lower yields have caused some investors to turn toward risky and higher-yielding assets such as equities (IWM) over the last few years.
Let's move on to discuss the primary driver of corporate earnings.