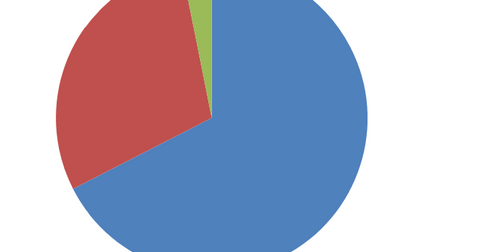 A Look at Adobe's Operating Segments in Fiscal 3Q16
By Anne Shields

Updated
Double-digit growth continues
As we saw in the previous part of this series, Adobe Systems (ADBE) continued to beat analysts' expectations with its fiscal 3Q16 earnings. In this part, we'll take a look at the company's operating segments: Digital Media, Digital Marketing, and Print and Publishing.
The Digital Media segment contributes the most towards Adobe's overall revenue, as you can see in the graph above. It's followed by Digital Marketing. Print and Publishing only contributed 3% to the company's fiscal 3Q16 revenue.
Article continues below advertisement
Adobe's improved performance in fiscal 3Q16 was due to Digital Media's better-than-expected performance. The consistent increase in the adoption of the cloud enabled Adobe to record better-than-expected growth in Creative Cloud subscriptions and Adobe Marketing Cloud revenues. As a result, revenue for the Digital Media segment rose 29% to $990 million.
Revenue growth across all geographies
Adobe Systems generates the majority of its revenue from US markets. In fiscal 3Q16, Adobe earned about 58% of its revenue from the Americas. It generated the remaining 27% and 15% of its total revenue from the EMEA (Europe (EZU), the Middle East, and Africa) region and Asia (AAXJ), respectively.
All regions reported a rise in revenue in fiscal 3Q16. Asia grew the most and reported 25% YoY (year-over-year) growth. It was followed by the Americas and the EMEA region, which reported 22% and 14% YoY growth, respectively.