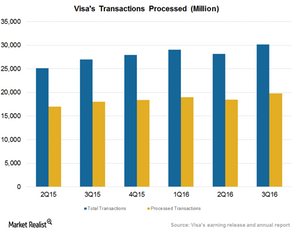 International Use to Boost Visa's Fiscal 4Q16 Processed Transactions
By Robert Karr

Updated
Technology upgrades
Visa (V) reported total transactions of $30.2 billion in fiscal 3Q16,[1. ended June 30, 2016] compared to $27 billion in fiscal 3Q15—a growth of 11.8% year-over-year. Total transactions represent the payments and cash transactions reported by the company's clients on their operating certificates.
Visa is expected to see low double-digit growth in fiscal 3Q16 on continued spending.
Processed transactions
Visa's (V) processed transactions grew by 11% to $19.8 billion in fiscal 3Q16. Processed transactions represent transactions involving Visa, Visa Electron, Interlink, and PLUS cards processed via Visa's networks.
Visa's international growth rate in transactions is picking up on expected lines due to a transfer of domestic processing to NSPK in Russia. Visa transferred the domestic processing of its payments to the new National Payment Card System of Russia in April 2015.
Visa expects its transaction growth to pick up more in the next quarter with the inclusion of Visa Europe numbers and accretion, a stable dollar, and improved energy prices.
Visa achieved operating profit margins of 65% in the last fiscal year, which ended on September 30, 2015. Here's how some of Visa's peers in the payment-processing industry fared with their operating margins in the last fiscal year:
Consistent spending
Visa (V) is well-positioned to benefit from policy measures that promote market-driven electronic payment solutions and increased card penetration. The company has experienced a consistent increase in the total number of transactions over the past several years. Visa is investing more resources in technology upgrades to support increased spending through online transactions.
Visa's US Transactions segment recorded growth of 11%, and its International Transactions segment growth reached 7%. Its International Transactions segment grew at a higher-than-expected rate even in the face of weakness in China and oil-based economies (USO). Looking at Visa's spending composition of its total transactions, 38% were credit transactions and the remainder were implemented with debit cards.
Article continues below advertisement