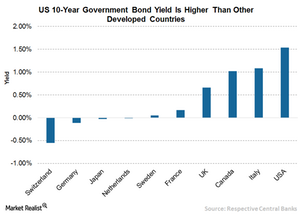 The Intense Search for Yield Ends in the United States
Bottom line: You historically can't get a high level of yield from relatively safe fixed income investments.
Another key conclusion is that, even though many investors stateside are starved for yield and U.S. yields are very low by historical standards, they are plump relative to the global bond market. U.S. sovereign bonds yielding about 1.5% and investment grade corporate bonds yielding about 2.75% look very attractive to many foreign investors (source: Bloomberg as of 8/29/16). In a recent research report, Wells Fargo noted that foreign investors are a very fast-growing investor segment of the U.S. market, and that foreign investors now own 40% of all U.S. corporate bonds. This trend is unlikely to shift in the near term, unless we see significant changes in the way that the BOJ and the European Central Bank (ECB) conduct monetary policy. And if things keep going the way they have, you may come to think back nostalgically on the days when you could earn even 1.5% in yield.
Article continues below advertisement
Market Realist – US bonds are better placed than other markets
In terms of yields and safety, US bonds (AGG) are placed at a much better position compared to other developed countries. The ten-year US government bond currently yields 1.6%—much higher than same-period bonds in other developed countries like the United Kingdom (0.67%), Germany (-0.08%), Japan (-0.03%), France (0.2%), and Canada (1.05%).
Higher yields on US investment-grade corporate bonds (LQD) attracted heavy foreign flows this year. According to Lipper data, investment-grade bond (SHYG) funds have seen year-to-date net inflows of $28 billion up to August 17, 2016. The higher inflows were mainly triggered by shrinking yields in Eurozone market. According to Bloomberg Barclays indexes, the average yield on Eurozone investment-grade corporate bonds (HYG) has fallen more than 50% since March to 0.6%.
Plus, data from Tradeweb showed that more than 30% of euro-denominated investment-grade corporate bonds are trading at negative yields while 84% yield less than 1%. On the other hand, the Bloomberg US Corporate Bond Index currently yields 2.8% while the S&P U.S. Issued Corporate Bond Index yields 2.66%.
The fund inflows into US bonds are likely to expedite further, buoyed by stretched valuations in European credit markets amid declining returns from investments in Treasuries. With the higher demand for US bonds, supply is also rising quicker. According to data from Dealogic, US investment-grade credit markets (IBCC)(IBDB) have experienced new debt sales worth around $63 billion in August.