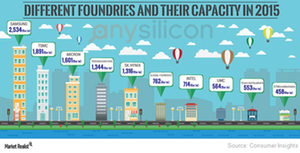 Will Intel Leverage Its Foundry Strategy for 5G Development?
By Puja Tayal

Sep. 19 2016, Updated 10:04 a.m. ET
Intel's technology development strategy
We've learned that Intel (INTC) is looking to develop a 5G (fifth-generation) ecosystem both organically and through partnerships and acquisitions. The company manufactures its own chips, and development takes place at two levels: the chip level and the manufacturing technology level.
While the company develops its chip technology, it plans to simultaneously develop its manufacturing technology through its foundry strategy.
Article continues below advertisement
Semiconductor foundry model
Third-party foundries such as TSMC (TSM) and Samsung (SSNLF) have agile and flexible manufacturing capabilities in terms of both capacity and diversity. As they manufacture chips for fabless companies, they have the technological capability to manufacture different types of products.
On the other hand, Intel's advanced foundries lack the technological capability to manufacture a diversity of products, as it mainly manufactures chips for itself. The company uses TSMC's fabrication facilities (or fabs) to manufacture modems.
Intel's foundry strategy
Intel is looking to tap into the benefits of the foundry model by opening its fabs to a diverse set of clients. This would help it to diversify its manufacturing competencies and, in turn, make these competencies available for its product businesses.
Intel-ARM partnership
Intel recently partnered with ARM Holdings (ARMH) to provide foundry services for ARM-based chips. ARM's architecture is believed to be better positioned than Intel's x86 architecture for IoT devices. With this partnership, Intel will be able to participate in the IoT revolution in two ways: First, it will manufacture ARM chips for embedded devices and earn foundry revenue. Second, it will make one of its fabs suitable for manufacturing its own chips for embedded devices.
All these acquisitions, partnerships, and technology developments require large investments in the long term. In the coming few parts of the series, we'll see how Intel plans to fund these investments. 
The PowerShares QQQ Trust, Series 1 ETF (QQQ) has 11.5% holdings in semiconductor stocks, including 3.2% in INTC.