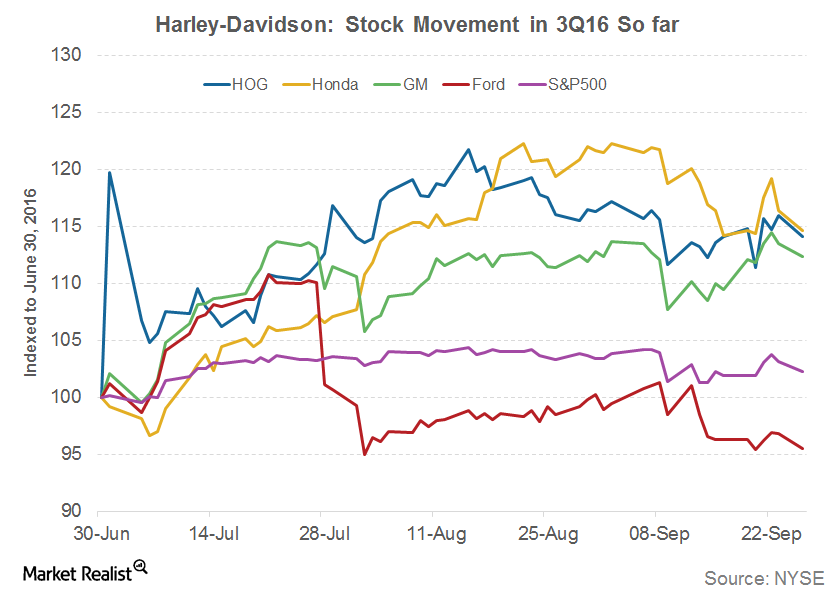 How Has Harley-Davidson Performed so Far in 3Q16?
Harley-Davidson's 3Q16 earnings
Harley-Davidson Motor Company (HOG) is set to release its 3Q16 earnings report on October 18, 2016. The company is the most popular heavyweight motorcycle brand in the world. But before we find out what investors can expect from its 3Q16 earnings, let's explore how Harley-Davidson's stock has performed so far in the third quarter of 2016.
Article continues below advertisement
Article continues below advertisement
Harley-Davidson in 3Q16 so far
Interestingly, 3Q16 began with a rollercoaster ride for Harley-Davidson. On July 1, 2016, the company's stock rose ~20% from the previous session's close. This price rally was primarily driven by a rumor that an American multinational private equity firm, KKR & Company (KKR) is looking to buy HOG. However, most of these gains were erased in the next session when investors realized that this news had had no authentic source to confirm.
In 3Q16 so far, HOG has registered impressive returns of 15.1% as of September 27, 2016. For the same period, mainstream automakers (IYK) such as Ford Motor (F) and Fiat Chrysler Automobiles (FCAU) have remained mixed with respective value erosions of 4.7% and 0.7%. In contrast, the largest US automaker, General Motors (GM), has risen 11.7%.
Series overview
In this series, we'll explore analysts' estimates for Harley-Davidson's 3Q16 and beyond. This analysis will include revenue and margin estimates ahead of the company's 3Q16 earnings. We'll also cover the company's valuation multiples and key technical levels.
Let's begin with a quick recap of HOG's 2Q16 earnings and then move on to its 3Q16 earnings estimates.