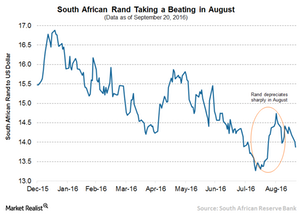 Headwinds Are Affecting Many Emerging Markets
By VanEck

Sep. 26 2016, Updated 5:04 p.m. ET
Developments in August
With approximately $11.7 trillion in negative yielding global debt, investors continued to allocate to emerging markets debt despite negative developments in some countries. In South Africa, an investigation of the finance minister increased uncertainty over leadership and caused the South African rand to tumble. Turkey maintained its investment grade status for now, but reviews are ongoing and Fitch Ratings lowered its outlook to negative. Standard & Poor's lowered Mexico's rating outlook to negative, citing sluggish growth and increasing debt. The agency noted that structural reforms undertaken continue to show positive results, but have not yet stimulated sufficient investment. In Brazil, President Dilma Rousseff was ousted by the Senate, providing hope that the country can move on with fiscal reforms under President Michel Temer. However, Temer's ability to impose fiscal discipline is unclear, as the country remains divided with relatively little appetite for austerity measures.
Article continues below advertisement
Market Realist – Many emerging markets face economic and political challenges
Strong investor interest in emerging market debt (EMLC) (HYEM) has continued despite adverse political and economic issues in some countries.
The fissures between the president and the finance minister in South Africa have upset markets, with the South African rand falling almost 10% in August 2016.
Caught up in a leadership tussle and economic stagnation, South Africa may face ratings downgrades by the end of the year. Tighter monetary policy and a sharp fall in commodity prices are making matters worse.
Turkey's turbulent times
The ongoing domestic political tension and geopolitical conflict in Turkey have affected the region's economy. Additionally, falling household consumption, falling trade, and weak tourism activities are exacerbating the problem.
In the first half of the year, Turkish exports fell 2.4% year-over-year while imports fell 6.7%. In 2Q16, Turkey's tourism revenue plunged 35.6% YoY to ~$5 billion.
Article continues below advertisement
Mexico's economic challenges
Mexico is currently facing numerous economic and political challenges such as a fall in oil prices, high debt, and government budget cuts. Mexico's oil sector has contracted 3% in 2016 compared to 2015, while its industrial sector has contracted 1.5%. In 2Q16, Mexico's economy fell 0.2% over the previous quarter for the first time in nearly three years.
Brazil's political conundrums
Brazil's (BRF) political and economic challenges are far greater than those in many other emerging markets. The country is facing high inflation, higher debt, and an economic slowdown not experienced since the financial crisis.
Brazil's economy fell 0.6% in 2Q16 compared to the previous quarter and 3.8% year-over-year. The unemployment rate, which reached a high of 11.6% in July compared to 8.6% in the previous year, hit consumer spending hard.
In the next article, we'll discuss positive developments that are aiding emerging market debt (EMB) (PCY).