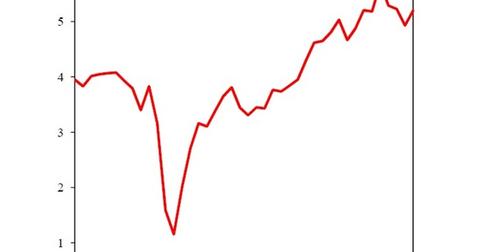 Why Haruhiko Kuroda Says Japan Is out of Deflation
By David Ashworth

Sep. 29 2016, Published 9:21 a.m. ET
Is Japan out of deflation?
Haruhiko Kuroda spoke to business leaders in Osaka on September 26, 2016. He said that during the Comprehensive Assessment carried out by the Bank of Japan, it was found that since the introduction of QQE (quantitative and qualitative monetary easing), "Japan's economic activity and prices, as well as financial conditions, have improved substantially."
He also said that "Japan's economy is no longer in deflation." He provided the example of corporate profits as measured by the ratio of current profit to sales, which is presented in the graph below.
Companies such as Toyota Motor (TM), Nippon Telegraph and Telephone (NTT), and Sony (SNE) have done quite well recently in terms of profits.
Article continues below advertisement
Other improvements
Kuroda pointed out that corporate profits aren't the only improvement. The unemployment rate has fallen to 3%; base pay increases have taken place for three successive years; and inflation, less fresh food and energy, has been positive for two years and ten months.
In his speech, Kuroda said, "This is the first time since the late 1990s, when Japan's economy fell into deflation, that the annual change in the CPI has been in positive territory for such a long period."
He also said that according to many Bank of Japan simulations, Japan would still have been in deflation if QQE had not been introduced. Meanwhile, Japanese equities (DBJP) (DXJ) have done well, especially in 2015, when they led the developed world.
Assessment
By making these points, Kuroda tried to prove that QQE, which was introduced in his term, was essential for Japan. However, it's important to note that the program has failed to fuel inflation and infuse confidence into businesses and consumers. Before looking at this further, let's take a look at the second point he made in terms of the Comprehensive Assessment of QQE by the Bank of Japan.
In the next part, we'll see how Kuroda tackled the issue of the inflation target not being met.