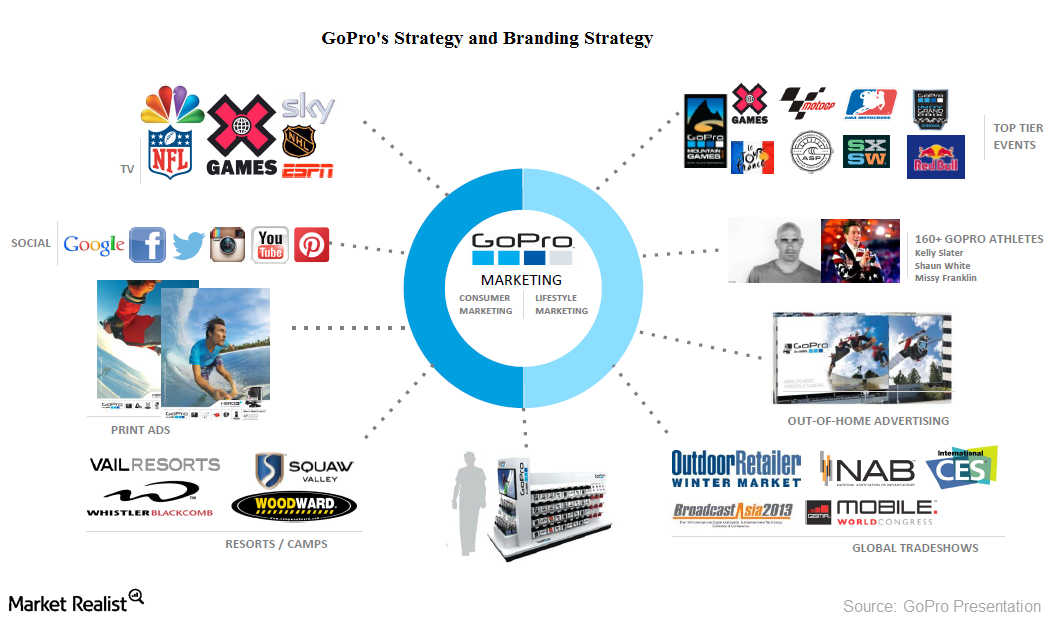 GoPro Banks on Social Media to Engage Customers
Social media followers rise 32% in 2Q16
In 2Q16, GoPro's (GPRO) followers on Facebook (FB), Instagram, Twitter (TWTR), and YouTube (GOOG) (GOOGL) rose 32% YoY (year-over-year) to over 25 million followers, indicating consumer awareness of its brand. GoPro is also preparing to launch the HERO5 and its drone, Karma, before the 2016 holiday season.
Brand awareness and demand is driven by GoPro's social media strategy, in which content is posted by the company, its 160 sponsored athletes, and millions of users. In June 2016, GoPro sponsored the fourth GoPro Mountain Games in Vail, Colorado, which was attended by over 67,000 people and hosted by the Vail Valley Foundation.
This event included competitive games such as mountain biking, rock climbing, and whitewater kayaking, where GoPro coached athletes on shooting and editing. The company also encouraged the athletes to grow their social media profiles, raising awareness of its products.
In 2016, athletes shared over 1,600 pieces of content on various social media platforms. This content was extremely popular and generated over 3 million views on social media.
Article continues below advertisement
Partnership with Red Bull
In May 2016, GoPro (GPRO) announced a multiyear partnership that includes content production, cross-promotion, and distribution on a global scale with Red Bull.
The president and director of GoPro, Anthony Bates, stated, "GoPro is now the exclusive provider of point-of-view imaging technology for Red Bull events, which reach 76 countries and generate billions of impressions."
Correction: This article originally claimed that the GoPro Mountain Games were hosted by GoPro. GoPro sponsored the event, however, which was hosted by the Vail Valley Foundation.