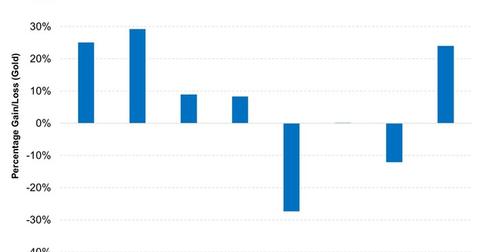 Gold Prices Moving North after 3 Years of Underperformance
By VanEck

Updated
The late summer period of August into early September shaped up to be a period of consolidation for gold markets. This follows the strong 28.5% year-to-date gain in the gold price as of July 6, which represented a two-year high, as measured by the NYSE Gold Miners Index[1. NYSE Arca Gold Miners Index (GDMNTR) is a modified market capitalization-weighted index comprised of publicly traded companies involved primarily in the mining for gold.] (or GDMNTR). In late August, however, the gold sector cooled off, and gold prices declined $42.03 per ounce (-3.1%) for the month, while the GDMNTR fell 16.2% and the MVIS™ Global Junior Gold Miners Index[2. MVIS Global Junior Gold Miners Index (MVGDXJTR) is a rules-based, modified market capitalization-weighted, float-adjusted index comprised of a global universe of publicly traded small- and medium-capitalization companies that generate at least 50% of their revenues from gold and/or silver mining, hold real property that has the potential to produce at least 50% of the company's revenue from gold or silver mining when developed, or primarily invest in gold or silver.] (or MVGDXJTR) declined 15.9%.
Article continues below advertisement
Market Realist – Gold prices finally moving north
The graph above shows the performance of gold (IAU)(OUNZ) over the last eight years. The steep correction in equities caused by the financial crisis led investors to seek shelter in safe havens, including gold and Treasuries. Gold is considered a store of value, which is why investors flee to gold during risk-off scenarios.
Investors continued to seek cover in 2010 as well, as the ghosts of 2008 and 2009 still haunted them. Gold prices increased by 25% and 29%, respectively. The QE (quantitative easing) program also helped gold prices, as interest rates fell.
However, in 2013, gold prices plummeted while the Fed contemplated ending the QE program, and in 2014, they were flat while the Fed wound down the program. Gold prices fell by 12% in 2015 as markets expected the Fed to hike rates.
This year, gold prices had risen by 24% as of September 19. Gold prices fell in August due to the Fed's hawkish stance, and rates are likely to rise as early as this month. Meanwhile, the NYSE (New York Stock Exchange) Gold Miners Index (GDX) has surged by 91.9% with the subdued cost inflation for gold miners. In the next part, we'll shed light on factors that could drive gold prices in the last quarter of the year.