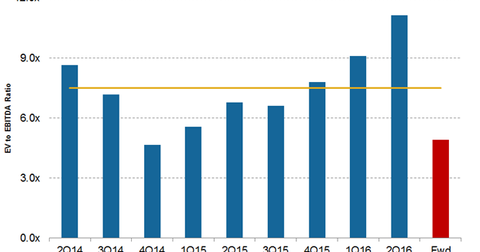 Oasis Trades at a Premium Compared to Its Historical Multiples
By Keisha Bandz

Updated
Oasis Petroleum's historical valuations
Oasis Petroleum's (OAS) 2Q16 EV-to-adjusted EBITDA (enterprise value to earnings before interest, tax, depreciation, and amortization) ratio was ~11.1x. EV is the sum of a company's market capitalization and net debt.
Article continues below advertisement
Breaking down Oasis's valuation
Oasis's 2Q16 EV-to-EBITDA multiple is higher than its historical average multiple of ~7.5x. This means OAS is trading at a premium compared to its own historical multiples. The market value of its equity has fallen ~6% year-over-year. Its net debt fell from ~$2.3 billion in 2Q15 to ~$2.1 billion in 2Q16.
So the company's net debt fell, as did its market value of equity, leading to a fall in Oasis's EV over this period.
Meanwhile, Oasis's 2Q16 trailing-12-month EBITDA also fell, and even more significantly than the fall in its EV. This explains the company's higher EV-to-EBITDA multiple in 2Q16 as compared to the previous quarters.
Meanwhile, upstream peer PDC Energy (PDCE) saw its 2Q16 EBITDAs for the trailing 12 months rise by 61%, while EP Energy (EPE) saw its 2Q16 EBITDAs for the trailing 12 months fall ~48%.
Forward EV-to-EBITDA multiple
Oasis's forward EV-to-EBITDA multiple—which represents the market expectations for a company's EBITDA for the current fiscal year—is ~4.9x. This lower forward multiple indicates that Wall Street expects Oasis's EBITDA to be higher in the coming fiscal year than over the past 12 months. This change would also mean OAS will trade at a discount as compared to its historical levels.
Another company with a lower forward EV-to-EBITDA multiple is Chesapeake Energy (CHK). (You can read more about it at "Evaluating Chesapeake Energy's Historical Valuations.")
Notably, CHK and OAS together make up 1.1% of the iShares US Oil & Gas Exploration & Production ETF (IEO).
In the next part of this series, we'll look at Oasis's relative valuation.