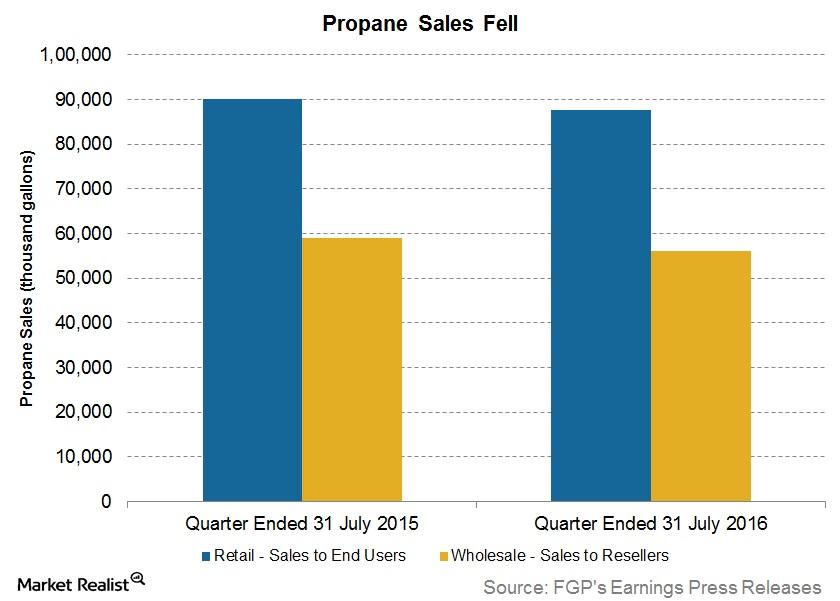 Ferrellgas Partners's Bridger Acquisition: What Went Wrong?
Bridger: An acquisition gone wrong?
The increase in Ferrellgas Partners's (FGP) debt due to the Bridger acquisition was combined with severe headwinds for the company's midstream operations, as well as unfavorable temperatures for its propane business. All these factors collectively made things very difficult for FGP.
In addition to the debt and unfavorable commodity price environment, FGP had other issues associated with the acquisition.
Article continues below advertisement
Jamex Marketing agreement
Ferrellgas Partners has terminated a ten-year transportation and logistics agreement with Jamex Marketing. Jamex Marketing was sourcing crude oil volumes for Bridger's largest customer, which resulted from concerns with respect to the ability to collect funds that Jamex Marketing owed to Bridger.
As a result, Ferrellgas Partners does not expect any further material contribution to its revenue from Jamex Marketing or from Bridger's largest customer.
Leverage ratio
According to Ferrellgas Partners's fiscal 4Q16 earnings press release, due to the "increase in debt incurred to fund the Bridger acquisition, the recently announced Jamex settlement and the effects of the record warm temperatures in fiscal 2016," the company's leverage ratio is approaching the 5.5x limit provided under its credit facilities.
On September 27, 2016, Ferrellgas Partners obtained an amendment under its credit facilities that increases the maximum leverage ratio "to a range of 5.95x to 6.05x over the next six quarters."
An expected distribution cut
Ferrellgas Partners (FGP) is taking steps to reduce its leverage—one step under consideration to achieve this goal is a reduction in distributions. According to its press release, "The distribution for the first quarter of fiscal 2017 has not yet been determined, but our board believes that it is possible that the annual distribution rate may be reduced from $2.05 to approximately $1.00 per common unit."
Moreover, such a reduction is expected to remain in place until the leverage reaches a level that the company deems to be appropriate for its business.
Ferrellgas Partners's leverage has been a concern for investors for quite some time. You can read more in Should We Be Concerned about Ferrellgas Partners's High Leverage?