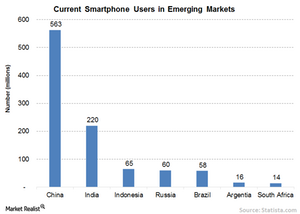 E-Commerce in Emerging Markets: The Great Confluence
By Peter Barnes

Updated
The great confluence
As the middle class expands and discretionary incomes rise, the impact of the web and mobile technologies are felt more strongly in emerging markets. The declining costs of smartphones, the prevalence of wireless broadband, and rising income have provided easy access to the Internet for many people living even in remote areas.
Article continues below advertisement
Smartphone users
As per estimates, currently, there are around 2 billion smartphone users worldwide. The number is expected to rise to 4 billion by 2020 or about 80% of all adults in the world. The growth will mainly be driven by emerging markets. Heavy growth is likely in countries like China (FXI), which currently has 563 million users, India with 220 million users, Indonesia with 65 million users, Russia with 60 million users, and Brazil with 58 million users. While mobile and web technologies are changing earlier notions of conducting business, E-Commerce (EMQQ) is well positioned to leapfrog ahead, beating traditional models.
The future is online
According to Credit Suisse, online sales, or E-Commerce, in emerging markets (EEM) (VWO) as a proportion of total retail sales is likely to exceed the same ratio in developed countries. This forecast was mainly due to a comparatively underdeveloped brick-and-mortar retail sector and the rapid increase of Internet usage on smartphones in emerging markets (SCHE).
E-commerce companies in emerging markets are bypassing traditional big box models common across developed economies and offering a new shopping experience to consumers.
Revenue growth
Buoyed by the sharp growth of E-Commerce in emerging markets, many companies have witnessed significant revenue growth. The revenue of EMQQ constituent companies jumped from $13 billion in 2009 to $74 billion in 2014, a five-year growth of 468% and an average annual growth of 41.5%. As the market matures, the growth rate is likely to slow over time.