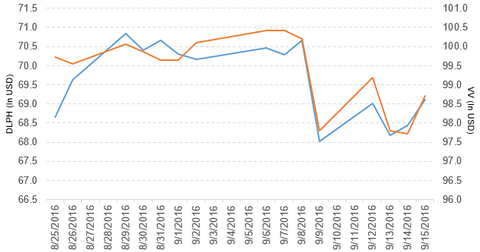 Why Did Delphi Automotive Issue Senior Notes Due in 2046?
By Gabriel Kane

Updated
Price movement
Delphi Automotive (DLPH) has a market cap of $19.6 billion. It rose 0.98% and closed at $69.11 per share on September 15, 2016. The stock's weekly, monthly, and YTD (year-to-date) price movements were -2.2%, 7.1%, and -18.3%, respectively, on the same day. Delphi Automotive is trading 0.70% above its 20-day moving average, 3.1% above its 50-day moving average, and 1.2% below its 200-day moving average.
Related ETF and peers
The Vanguard Large-Cap ETF (VV) invests 0.09% of its holdings in Delphi Automotive. VV tracks a market-cap-weighted index that covers 85% of the market capitalization of the US equity market. VV's YTD price movement was 6.6% on September 15.
The market caps of Delphi Automotive's competitors are as follows:
Latest news on Delphi Automotive
In a press release on September 15, 2016, Delphi Automotive reported, "Delphi Automotive PLC (DLPH), a leading global technology company serving the automotive sector, today announced it priced $300 million aggregate principal amount of its 4.400% Senior Notes due 2046 (the "Notes")."
It also added, "The Notes will be issued at a price of 99.454% of their principal amount. Proceeds from the Notes, together with the proceeds from Delphi's previously announced offering of €500 1.600% Senior Notes due 2028, will be used to repay its existing $800 million 5.00% Senior Notes due 2023 (the "2023 Notes")."
Performance in 2Q16
Delphi Automotive reported 2Q16 net sales of $4.2 billion—a rise of 7.7% from net sales of $3.9 billion in 2Q15. Sales of the Electrical and Electronic Architecture and Electronics and Safety segments rose 15.1% and 9.0%, respectively. Sales of the Powertrain Systems segment fell 2.2% between 2Q15 and 2Q16. It reported a restructuring expense of $154.0 million in 2Q16—compared to $17.0 million in 2Q15. The company's cost of sales as a percentage of net sales and operating income fell 1.2% and 18.7%, respectively.
Its net income and EPS (earnings per share) fell to $258.0 million and $0.94, respectively, in 2Q16—compared to $645.0 million and $2.23 in 2Q15. It reported adjusted EPS of $1.59 in 2Q16—a rise of 18.7% from 2Q15.
Delphi's cash and cash equivalents fell 18.3% and its inventories rose 11.6% between 4Q15 and 2Q16. Its debt-to-equity ratio fell to 3.3x in 2Q16 from 3.4x in 4Q15. It reported a current ratio of 1.3x in 4Q15 and 2Q16. During 2Q16, the company repurchased 0.89 million shares worth ~$65 million. Currently, it has ~$1.6 billion for future share repurchases.
Projections
The company made the following projections for fiscal 3Q16:
revenue of $3.9 billion–$4.0 billion
adjusted operating income of $505 million–$525 million
adjusted EPS of $1.38–$1.44
adjusted effective tax rate of 17%
The company made the following projections for fiscal 2016:
revenue of $16.3 billion–$16.5 billion
adjusted operating income of $2.15 billion–$2.20 billion
adjusted EPS of $5.95–$6.05
cash flow from operations of $1.9 billion
capital expenditures of $750 million–$800 million
adjusted effective tax rate of 17%
For an ongoing analysis of this sector, please visit Market Realist's Consumer Discretionary page.