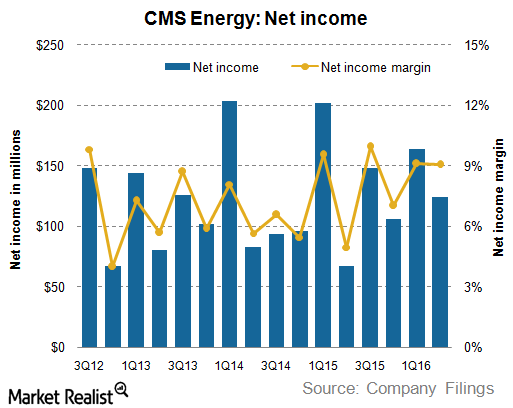 Why CMS Energy Is Targeting Above-Average Earnings Growth
By Vineet Kulkarni

Dec. 4 2020, Updated 10:53 a.m. ET
CMS Energy: Earnings
$12 billion CMS Energy (CMS) has one of the highest earnings growth rates in the industry. The company forecasts that it will grow 5%–7% in 2016 and 6%–8% thereafter. The company's relatively high earnings growth rate is expected to come from capital projects in the next couple of years.
CMS Energy's CEO, Patti Poppe, is taking active steps to turn the company into a pure-play regulated utility. The company will aim to generate almost all of its profits from regulated electric and gas utility operations.
Article continues below advertisement
Performance drivers
In the next few years, CMS Energy's capital projects are expected to drive its rate base growth. Its coal-dominated power generation is also expected to shift to environmentally friendly natural gas generation in the near future.
It should be noted that CMS Energy's traditional electric and gas utility operations are growing faster than the industry average (XLU). Last year, CMS's electric segment contributed nearly 75% of its total profits, while the rest were contributed by its gas utility operations.
For the next few years, neighbor utility DTE Energy (DTE) will be targeting earnings growth of ~5%, a couple of percentage points lower than CMS, despite its contribution from non-utility segments.
Healthy regulatory framework
CMS Energy uses a forward test year for all its rate cases, facilitating a faster investment recovery and eliminating regulatory lag. Its next year's expected capital spending is considered when finalizing its next year's energy rates. This practice helps CMS to fetch higher returns on equity. DTE is also enjoying the healthy regulatory environment in Michigan, effectively minimizing regulatory lag.
Let's discuss CMS's free cash flow in the next article.