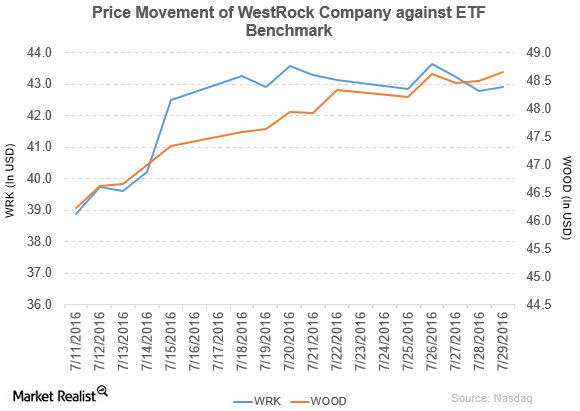 WestRock Declares a Dividend of $0.375 Per Share
Price movement
WestRock Company (WRK) has a market capitalization of $10.9 billion. It rose by 0.33% to close at $42.91 per share on July 29, 2016.
The stock's weekly, monthly, and year-to-date (or YTD) price movements were -0.51%, 13.0%, and -4.0%, respectively, on the same day. WRK is trading 5.0% above its 20-day moving average, 7.8% above its 50-day moving average, and 4.7% above its 200-day moving average.
Article continues below advertisement
Article continues below advertisement
Related ETF and peers
The iShares Global Timber & Forestry ETF (WOOD) invests 3.1% of its holdings in WestRock. The ETF tracks the 25 largest publicly listed companies that own or manage forests and timberlands. The YTD price movement of WOOD was 1.9% on July 29.
The market capitalizations of WestRock's competitors are as follows:
WestRock declared a dividend
WestRock has declared a dividend of $0.375 per share on its common stock. The dividend will be paid on August 22, 2016, to shareholders of record at the close of business on August 12, 2016.
WestRock's performance in 2Q16
WestRock reported 2Q16 net sales of $3.7 billion, a rise of 50.5% compared to net sales of $2.5 billion in 2Q15. Sales from the corrugated packaging and consumer packaging segments rose by 7.4% and 128.6%, respectively, in 2Q16 compared to the corresponding period last year.
WRK reported sales of $203.9 million and $18.7 million in its specialty chemicals and land and development segments, respectively, in 2Q16. The company reported restructuring and other costs of $131.2 million in 2Q16, compared to $17.2 million in 2Q15.
Its net income and EPS (earnings per share) fell to $56.9 million and $0.22, respectively, in 2Q16, compared to $109.8 million and $0.77, respectively, in 2Q15. The company reported adjusted EPS of $0.61 in 2Q16.
WestRock's cash and cash equivalents and inventories rose by 61.0% and 4.9%, respectively, in 2Q16 compared to 4Q15. Its current ratio fell to 1.7x, and its debt-to-equity ratio rose to 1.3x in 2Q16, compared to a current ratio and a debt-to-equity ratio of 1.9x and 1.2x, respectively, in 4Q15.
Now we'll discuss Kellogg Company.