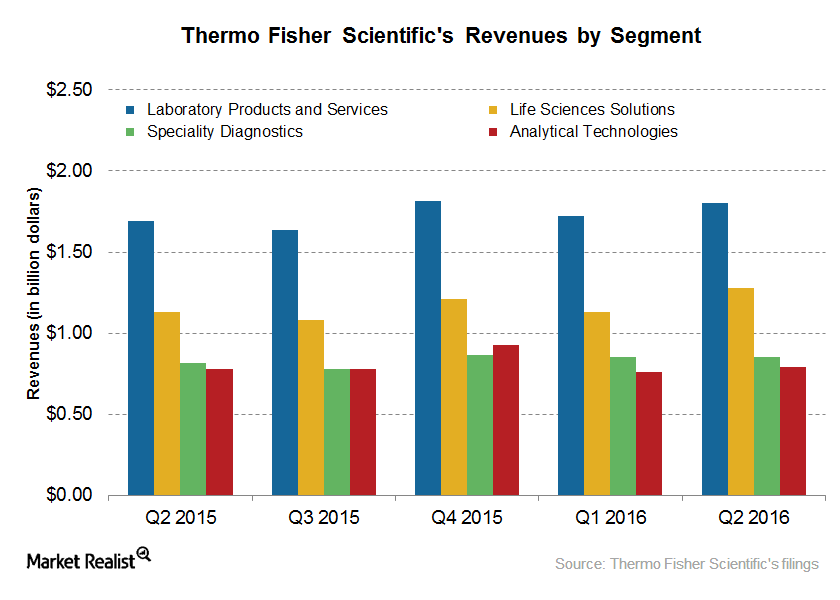 Thermo Fisher Scientific's Key Growth Strategy
<p>Thermo Fisher Scientific reported ~$4.5 billion in revenues in 2Q16, representing YoY (year-over-year) growth of ~6%.</p>
2Q16 performance
Thermo Fisher Scientific reported ~$4.5 billion in revenues in 2Q16, representing YoY (year-over-year) growth of ~6%. Around 4% of revenue growth was attributed to organic sales while approximately 3% of the revenue growth was driven by acquisitions. Currency fluctuation continued to have a slightly negative impact on Thermo Fisher Scientific's growth.
The company's adjusted EPS (earnings per share) witnessed a YoY growth of ~10% at $2.03 per share. While the United States continued to be the company's strongest market, China, India, and Korea generated significant sales.
Article continues below advertisement
Article continues below advertisement
In 2Q16, Thermo Fisher Scientific's Life Sciences Solutions group registered a strong growth of around 13% on a YoY basis. This segment consists of the Life Technologies business, which was acquired by Thermo Fisher Scientific in 2014 and its legacy Biosciences business. All of the company's other segments grew in single digits.
Thus, the company witnessed a strong performance in the quarter, largely boosted by its recent acquisitions' synergies. Peers Becton Dickinson (BDX), Agilent Technologies (A), and Abbott Laboratories (ABT) registered YoY revenue growth of 2.5%, 3%, and 3.2%, respectively, in the recently reported quarters. Investors interested in Thermo Fisher Scientific can invest in the iShares Core S&P 500 ETF (IVV), which holds approximately 0.32% of its total holdings in TMO.
Key growth strategies
Thermo Fisher Scientific mainly focuses on three growth strategies in order to gain market share: innovation, emerging markets scale, and customer value proposition delivery. It continues to launch improved and innovative products. Some of the recent launches include Q-Exactive BioPharma mass spectrometer for the discovery and development of new drugs, TSX ultra-low temperature freezers that reduce energy consumption, and imPULSE Single-Use Mixing System for biotherapeutics, which was added to the company's portfolio through the acquisition of ASI in February 2015.
The company is expanding across the emerging markets through various partnerships and acquisitions. It has also set up various manufacturing and commercial facilities in countries like China, South Korea, India, and Singapore. Moreover, the company's portfolio depth and scale have positioned it to provide high customer value through constantly advancing research and enhanced comprehensive product portfolios.