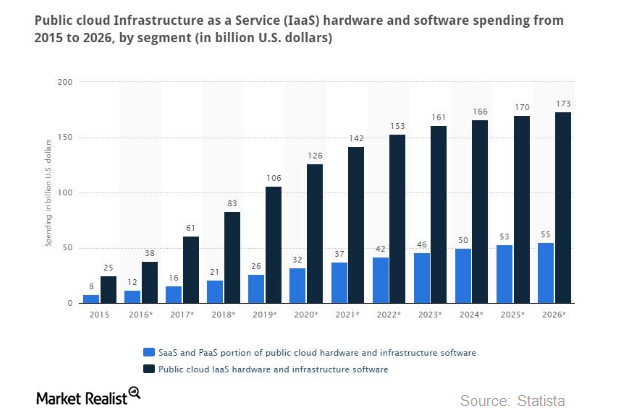 Why Was Rackspace Destined to Lose in the Cloud Space?
What it takes to compete in the cloud space
The technology sector was the only sector in the S&P 500 that had more cash than debt per share in 2015. However, the majority of the cash in this space is held by companies like Microsoft (MSFT), IBM (IBM), and Google (GOOG). As of 2015, these companies collectively had more than ~250 billion in cash parked overseas. These companies have also allocated billions in R&D (research and development) to stay competitive in cloud space. Every year, Google spends billions of dollars to build, upgrade, and maintain data centers, as reported by Bloomberg. On the other hand, Rackspace (RAX) has hardly $544 million worth cash and cash equivalents as of June 30, 2016.

Article continues below advertisement
As we discussed in previous parts of this series, Rackspace tried to deal with the rising competition in cloud space by changing its business strategy. But despite an increase in customer signings from Amazon's (AMZN) AWS and Azure, Rackspace's growth continued to fall. Rackspace thus lacks the funds, scale, and footprint that Amazon, Microsoft, and other leading players in the cloud space enjoy.
Rackspace's sale confirms mounting competition in the cloud space
According to Statista, spending on public cloud IaaS (infrastructure-as-a-service) hardware and software is expected to grow at a CAGR (compound annual growth rate) of ~16.4% from $38 billion in 2016 to $173 billion in 2026. This anticipated growth is attracting leading technology players and thwarting smaller players' presence in the space.
Joshua Yatskowitz, an analyst with Bloomberg, stated that "Rackspace's public cloud services have been losing market share to the hyperscale providers," adding that "the company has said current customers haven't been churning, but it is seeing a smaller portion of new workloads, which have increasingly gone to the hyperscale players."
A recent Gartner report also suggests the same, stating: "Hyperscale providers are dominating the market for public cloud storage in terms of product innovation, scale, and revenue."