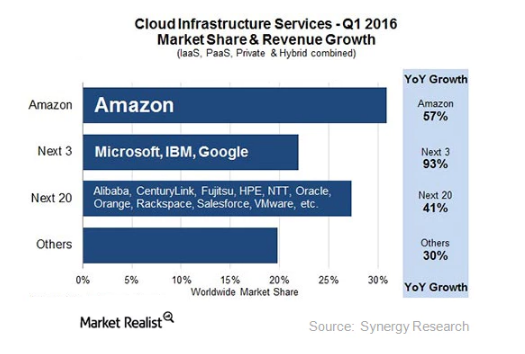 Why Did Oracle Announce the Acquisition of NetSuite?
Oracle announced its largest acquisition to date
On July 28, 2016, Oracle (ORCL) announced the acquisition of NetSuite for $9.3 billion. Oracle is paying roughly $109 per share for each NetSuite stock, which is a 19% premium to NetSuite's closing stock price of $91.57 per share as of July 27, 2016.
NetSuite's acquisition is the largest acquisition Oracle has announced after PeopleSoft acquisition for $10.3 billion in 2004.
NetSuite is the sixth acquisition Oracle has announced in 2016. Prior to NetSuite, Oracle announced the acquisition of OpowerIs Oracle's Buyout of Opower a Sign of Acquisitions to Come?, Crosswise, Textura, Ravello Systems, and AddThis. Crosswise and AddThis were acquired to augment the company's position in the data cloud and marketing cloud spaces.
Please read OpowerIs Oracle's Buyout of Opower a Sign of Acquisitions to Come? to know more.
Article continues below advertisement
Oracle aims to strengthen its position in cloud with NetSuite acquisition
According to Synergy Research's recent estimates, cloud infrastructure service revenues in 1Q16 have surpassed the $7 billion landmark. Amazon (AMZN) continued to rule the cloud space with a 31% market share, followed by Microsoft (MSFT), IBM (IBM), and Google (GOOG) (GOOGL), which collectively accounted for 22% of the cloud space.
Apart from these four players who collectively rule more than half of the cloud space, the next 20 players, which include Rackspace (RAX), Oracle (ORCL), Salesforce (CRM), and VMware (VMW), grew 41% on average on a yearly basis. These 20 players collectively held 27% of the cloud space.
On the surface, the growth posted by the 20 players mentioned earlier in the series looks promising. However, when we compare their growth figures with the growth in the overall cloud space, it doesn't appear to be satisfactory. Synergy Research estimates show that the cloud space is growing at a rate of more than 50% while these 20 players, including Oracle, reported average yearly growth of 41%, indicating that they are losing market share.
This explains the rationale behind Oracle's recently announced acquisition of NetSuite.