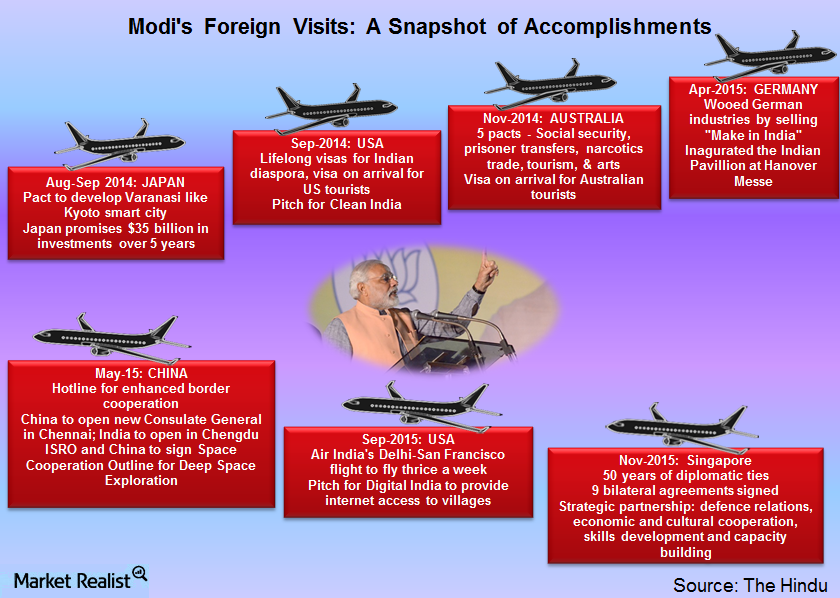 Modi's Moment: Promises and Accomplishments
India's Parliament consists of the Lower House (House of the People) and the Upper House (Council of States). Modi's BJP controls the Lower House but lacks a majority in the Upper House, which has veto powers. To stand a chance at gaining control of the Upper House, the BJP must do well at the key state elections through to 2018. This has proved difficult – the party was hit for six when it lost consecutive elections in Delhi and Bihar last year as voters started to question Modi's grand vision. Strong results in the forthcoming state elections will boost the BJP's clout in the Upper House, allowing it to push through nationwide reforms with less challenge. Central to Modi's success will be his continued focus on competitive federalism – the principle that Indians are best served by allowing state governments to compete with each other. He has wisely adopted a pragmatic approach and encouraged states to be reform-minded, rather than fixated on political persuasion. As Arun Jaitley, Finance Minister has said, "A 'one size fits all' approach to economic planning is obsolete. It cannot make India competitive in today's global economy."
Article continues below advertisement
Indicative of his unconventional approach, Modi disbanded the old top-down Planning Commission and replaced it with NITI Aayog – a government think-tank focused on bottom-up economic policymaking at the state level. In the 2015 budget, Modi oversaw the largest ever devolution of central resources to the states, increasing their share of central tax revenue from 32% to 42%. He has navigated a way around the impasse on land acquisition reform by encouraging legislation to be passed at the state level – something that is happening at pace.
Several factors illustrate Modi's positive influence on the economy. India has now experienced two back-to-back deficient monsoons (defined as less than 90% of long-term average rainfall) for the first time since the mid-1980s and only the fourth time in over a century. Despite this, food inflation has remained relatively stable. In part, this has been helped by government measures to deter hoarding, ensure timely distribution of rice and wheat, moderate minimum support price increases and deter exports (or encourage imports) of key food products like onions. Environmental clearances for projects have been fast-tracked.
Article continues below advertisement
The low oil price has undoubtedly aided Modi in his reform agenda. As a major net oil importer, cheaper oil has improved India's terms of trade with the current account deficit falling to 1.3% of GDP from 4.8% two years ago. It has also boosted corporate and consumer confidence and demand at an important time as India embarks on a series of gamechanging reforms.
Modi's popularity remains high. Research by the PEW Center supports this, based on a survey of almost 2,500 people in 15 out of the 17 most populous states over April and May 2015. A massive 87% of Indians have a favorable opinion of Modi, up from 78% in 2013 prior to the election. Even among rival Congress party supporters, 74% hold a favorable opinion.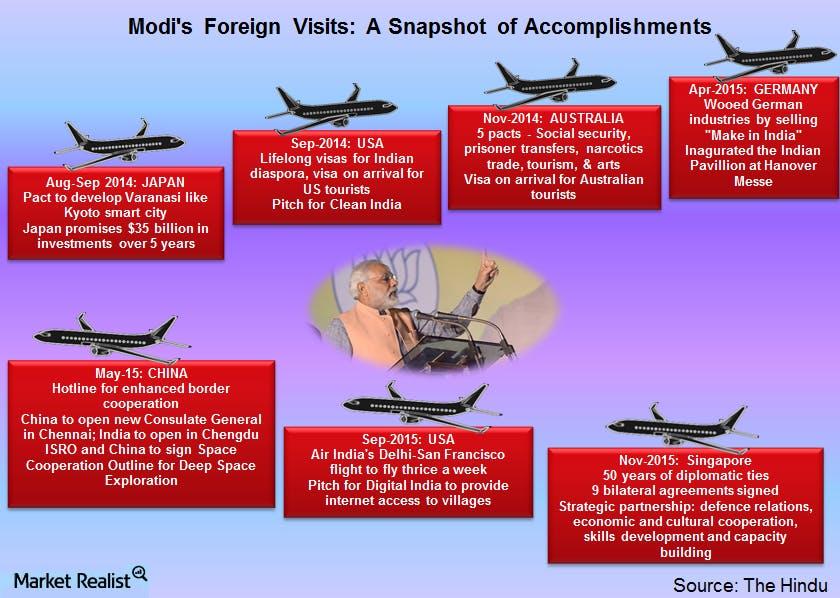 Article continues below advertisement
Market Realist – The above image shows Modi's key trips in 2015 and what they've yielded for India.
India (PIN) has strengthened its ties with Asian powerhouses (GRR) like Japan (JEQ) (EWJ) and Singapore (SGF). India and Japan have brokered a $15 billion deal that will help build India's first high-speed rail link. A nuclear cooperation agreement with Japan, which had been in the works since 2010, also had some breakthroughs and is likely to come to fruition soon. India and Singapore have signed a "strategic partnership" to foster cooperation in areas like air connectivity, smart cities, urban planning, and defense.
Article continues below advertisement
Modi also became the first Prime Minister to visit Canada (EWC) in 42 years and brokered an agreement for the long-term supply of uranium to India. India and South Korea have also brokered seven agreements to boost bilateral ties and tackle the issue of double taxation. During his visit to the United Kingdom (EWU), Modi managed to strike 27 agreements in three days pertaining to various issues like technology transfer in defense, cyber security, and online child pornography (Source: Indian Express).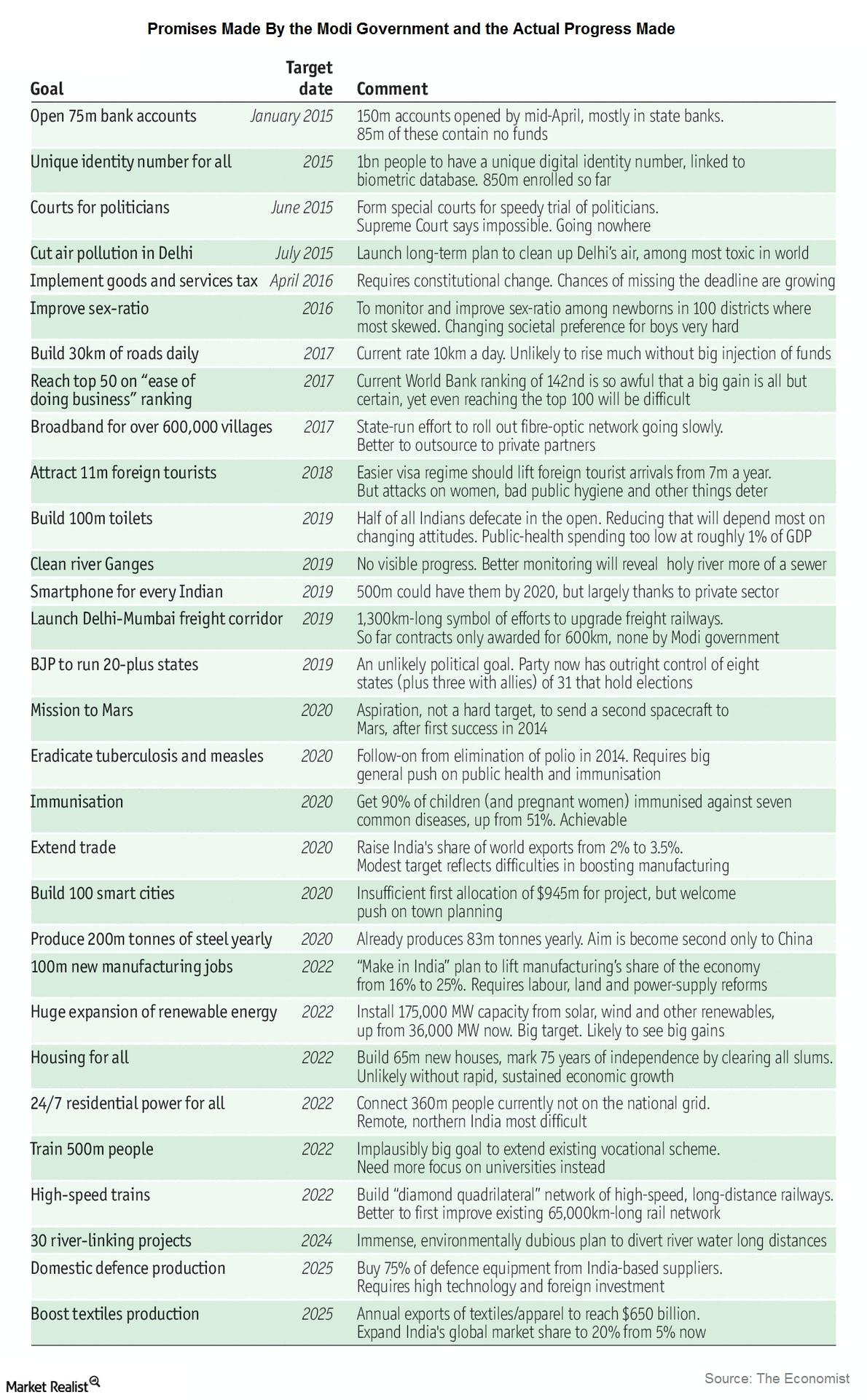 Though Modi has broken much-needed ground through his international visits, there is much more to be done domestically. The above table from the Economist shows the promises made by the Modi government and the progress made so far. We'll explore some of the government's major reform measures in the next part of the series.