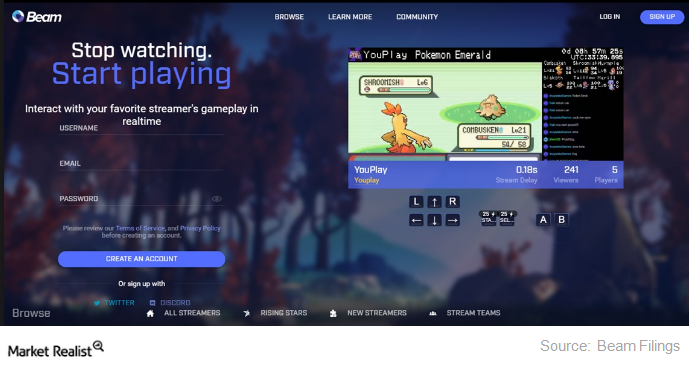 Why Microsoft Acquired Beam
<p>On August 11, Microsoft announced its intention to acquire Beam, a live streaming service that enables viewers to play with other streamers in real time.</p>
Beam is the most recent addition to Microsoft's umbrella
We know that with its LinkedIn (LNKD) acquisition, Microsoft (MSFT) announced not only its largest-ever acquisition but also the biggest deal of any software company. It seems that Microsoft (MSFT) is following the same route that IBM (IBM) has followed to achieve revenue growth while extending and expanding its domain expertise and presence in the current technology space.
Like IBM, Microsoft is aggressively seeking acquisitions to bolster its offerings and market presence. In 2015, Microsoft made more acquisitions than any other company in the tech space.
On August 11, 2016, Microsoft announced its intention to acquire Beam, a live streaming service that enables viewers to watch and play with game streamers in real time. The financial details of the deal were not disclosed.
Article continues below advertisement
Article continues below advertisement
Beam to strengthen Xbox's capabilities and gaming presence
Microsoft intends to put to use the interactivity of the Beam platform to enhance its Xbox social capabilities. Xbox Live is a subscription service that enables gamers to play and interact with other users. Through Beam's integration into Xbox Live, Xbox Live platform is likely to become more social and engaging. In its previous fiscal 4Q16, Xbox Live's monthly active users grew by 33% on year-over-year basis to 49 million.
Commenting on how Beam's integration with Xbox will benefit streamers, Chad Gibson, Partner Group Program Manager of Microsoft's Xbox Live, stated: "We at Xbox are excited about this convergence between playing and watching and want to provide gamers with the freedom and choice to have great multiplayer experiences across all of Beam's platforms. This acquisition will help gamers enjoy the games they want, with the people they want, and on the devices they want."
Better, faster
Under Microsoft's umbrella and leadership, Beam will likely be able to scale better and faster. As there are no game or platform restrictions with Beam, Microsoft's Xbox with Beam would be able to improve its interaction and connectivity with the multiplayer gaming experience community.
Notably, the US gaming space is dominated by Electronic Arts (EA) and Activision (ATVI). The most popular gaming consoles are Microsoft's Xbox and Sony's (SNE) PlayStation.
Continue to the next part for more specifics on what Beam would bring to the table for Microsoft.