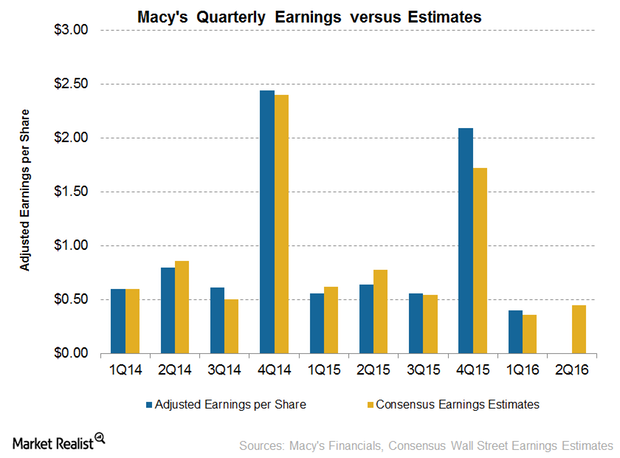 Why Macy's Earnings Are Expected to Fall in 2Q16
Fall in earnings
Department store chain Macy's (M) is expected to report its 2Q16 results on August 11, 2016. Macy's earnings, excluding one-time items, have fallen for five consecutive quarters. The company's adjusted EPS (earnings per share) fell by 28.6% on a year-over-year basis in 1Q16. Analysts expect Macy's earnings to fall in 2Q16 also.
Article continues below advertisement
Article continues below advertisement
Earnings in 1Q16
In 1Q16, Macy's delivered adjusted EPS of $0.40, exceeding the analysts' consensus estimate of $0.36. The 28.6% fall in Macy's 1Q16 adjusted EPS was caused by lower sales and a fall in its operating margin. The fall in its 1Q16 adjusted EPS was higher than the 14.2% fall in its 4Q15 adjusted EPS and the 6.7% fall in its 1Q15 adjusted EPS.
Macy's EPS in 1Q16 were favorably impacted by a reduction in the share count due to share repurchases. The average diluted share count in 1Q16 was down by 9.5% to 313.5 million shares compared to 346.5 million shares in 1Q15.
Investors can gain exposure to Macy's through several ETFs, including the iShares Global Consumer Discretionary ETF (RXI). RXI invests about 0.3% of its holdings in Macy's.
Macy's peers also reported weak results in 1Q16. Nordstrom (JWN) and Kohl's (KSS) reported falls of 45.5% and 50.8%, respectively, in their 1Q16 adjusted EPS. Weak sales and higher markdowns in a competitive market impacted the performances of department stores. JCPenney's turnaround efforts helped it bring its adjusted EPS to -$0.32 in 1Q16 from -$0.57 in 1Q15.
2Q16 earnings expectations
Analysts expect Macy's 2Q16 adjusted EPS to fall by about 29.8% to $0.45. Analysts expect weak sales and pressure on margins to drag the company's earnings in 2Q16.
The company lowered its 2016 EPS guidance in May 2016 following a dismal 1Q16 quarter. Macy's stated that it expects 2016 diluted EPS in the $3.15–$3.40 range. This company had earlier expected diluted EPS in the $3.80–$3.90 range. The company's guidance excludes the impact of settlement charges relating to its defined benefit retirement plans.
We'll discuss the trend in Macy's stock price in the next part of this series.