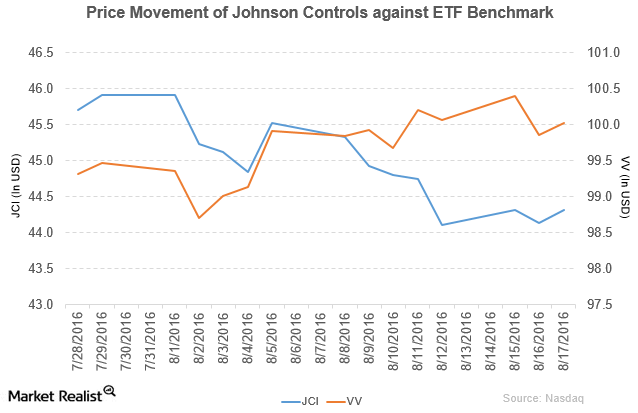 Johnson and Tyco Shareholders Approved Merger
Price movement
Johnson Controls (JCI) has a market cap of $28.7 billion. It rose by 0.43% to close at $44.32 per share on August 17, 2016. The stock's weekly, monthly, and year-to-date (or YTD) price movements were -1.1%, 0.94%, and 14.6%, respectively, on the same day. JCI is trading 1.7% below its 20-day moving average, 0.26% above its 50-day moving average, and 9.9% above its 200-day moving average.
Article continues below advertisement
Article continues below advertisement
Related ETF and peers
The Vanguard Large-Cap ETF (VV) invests 0.15% of its holdings in Johnson Controls. The ETF tracks a market-cap-weighted index that covers 85% of the market capitalization of the US equity market. The YTD price movement of VV was 8.0% on August 17.
The market caps of Johnson Controls' competitors are as follows:
Latest news on Johnson Controls
Johnson Controls and Tyco shareholders have approved the merger of these companies. The transaction is expected to close on September 2, 2016.
Johnson Controls reported, "In a final count of the voting results, 97% of votes cast at a special meeting voted in favor of the transaction, representing over 81% of all outstanding Johnson Controls shares as of the record date." The company added, "the merger will create a global industrial leader uniquely positioned in building and energy markets with $30 billion in annual revenue by bringing together two leading businesses with best-in-class product, technology and services to deliver greater value to customers, shareholders and employees."
Article continues below advertisement
Performance of Johnson Controls in 3Q16
Johnson Controls reported 3Q16 net sales of $9.5 billion, a fall of 1.0% compared to net sales of $9.6 billion in 3Q15. Sales from its Building Efficiency and Power Solutions segments rose by 33.0% and 3.1%, respectively. Sales from its Automotive Experience segment fell by 19.3% in 3Q16 compared to 3Q15. The company's gross profit margin rose by 12.9%, and its income from continuing operations before income taxes fell by 11.0% in 3Q16 compared to 3Q15.
Its net income and EPS (earnings per share) rose to $383.0 million and $0.59, respectively, in 3Q16 compared to $178.0 million and $0.27, respectively, in 3Q15.
JCI's cash and cash equivalents fell by 21.8%, and its inventories rose by 25.0% in 3Q16 compared to 4Q15. Its current ratio and long-term debt-to-equity ratio fell to 0.92x and 0.54x, respectively, in 3Q16 compared to 1.0x and 0.55x, respectively, in 4Q15.
Projections
Johnson Controls has made the following projections:
It expects the EPS to be in the range of $3.95 to $3.98 per share for fiscal 2016, which reflects strong operational performance.
It expects EPS in the range of $1.17 to $1.20 for fiscal 4Q16.
This guidance doesn't include the impact of the Tyco merger and transaction, integration and separation costs, year-end pension and postretirement mark-to-market adjustments, or other non-recurring items.
In the next part, we'll take a look at Ingredion.