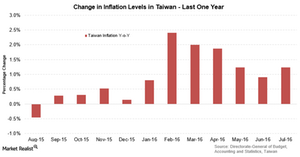 Inflation Rises in Taiwan, Indonesian GDP Beat Expectations
Inflation rates rose in Taiwan
The inflation rate in Taiwan rose by 1.2% in July on an annual basis—above expectations of 1.1% growth and the previous month's increase of 0.91% in consumer prices. On a monthly basis, the inflation level rose in July by 0.22% in Taiwan (EWT)—slower compared to the 0.34% increase in June. The central bank of Taiwan has cut rates twice—most recently in June to 1.4%.
Taiwan's economy grew by 0.69% in 2Q16 after contracting in the previous quarter. To learn more, read Taiwan's Economy Expands, Russia Keeps Rates Unchanged.
Article continues below advertisement
Indonesia's economy expanded
Indonesia's GDP for 2Q16 expanded by 5.2% on an annual basis—above estimates of a 5.0% growth and the previous quarter's rise of 4.9%. On a quarterly basis, the Indonesian (EIDO) economy grew by 4.0% in 2Q16—compared to a contraction of 0.36% last quarter. Although the increase was boosted by the Ramadan festive season, speculations are rising about whether the strength in the South Asian (AAXJ) (AIA) economy can continue.
Bank Indonesia kept the rates constant in the last monetary policy meeting—compared to expectations of another round of easing as inflation levels remain in the comfortable range. Read Why Did Bank Indonesia Keep Rates Constant? to learn more.
Inflation rates remain unchanged for the Philippines
Inflation rates in the Philippines rose by 1.9% on an annual basis in July—in line with the increase last month, but below the estimated forecast of 2.1%.
Consumer prices for the food and beverage sector rose at a slow pace, while the decline was less in the housing and utilities sector—compared to the previous month. On a monthly basis, consumer prices in the Philippines (EPHE) in July eased to 0.1%—compared to a 0.4% rise last month.