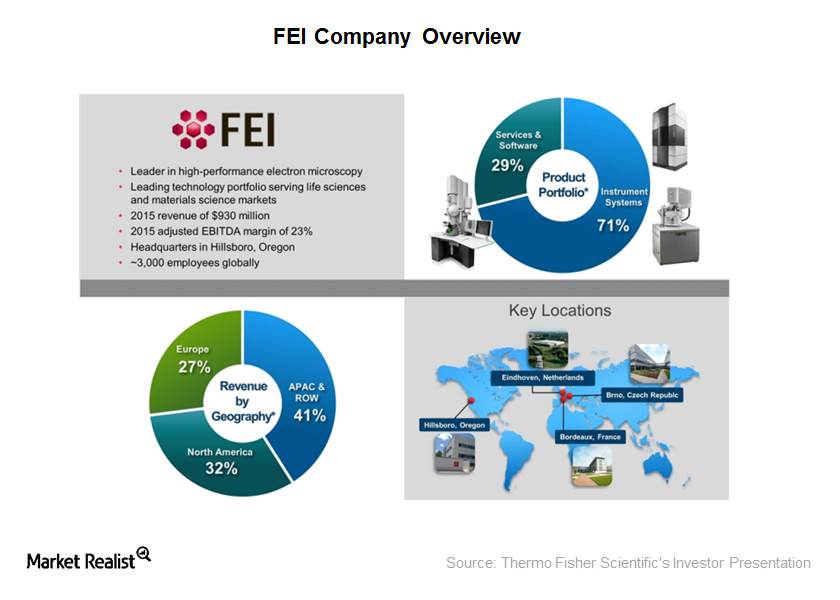 How the FEI Acquisition Will Benefit Thermo Fisher Scientific
<p>Thermo Fisher Scientific believes that the FEI acquisition is a strategic fit for the company due to its strong product portfolio.</p>
Deal nuances
On May 27, 2016, Thermo Fisher Scientific announced the acquisition of FEI Company for $4.2 billion. This comes to around $107.5 per share in cash. The share price of FEI Company on May 26, 2016, stood at $94.6 and jumped approximately 15% following the acquisition announcement. FEI's stock price has maintained momentum since then. The deal is expected to close by the end of 2016 against the earlier estimates of the beginning of 2017. The acquisition is expected to be immediately earnings accretive and estimated to yield total synergies of $80 million. After the acquisition, FEI (FEIC) will be a part of Thermo Fisher Scientific's Analytical Instruments business segment.
Peers Becton Dickinson (BDX) and Zimmer-Biomet Holdings (ZBH) have also said that acquisition is one of their key growth strategies. Investors seeking focused exposure to TMO can invest in the iShares U.S. Medical Devices ETF (IHI).
Article continues below advertisement
Article continues below advertisement
Strategic rationale behind the acquisition
FEI Company manufactures technologies in the life science application areas. It designs and manufactures electron microscopy workflows that enable customers to make new discoveries and increase productivity.
Thermo Fisher Scientific believes that the FEI acquisition is a strategic fit for the company due to its strong product portfolio, which will strengthen the company's Analytical Instruments segment. In 2Q16, Analytical Instruments contributed ~17% to the company's total revenues, the least of all the segments of the company. The company has a leading position in mass spectrometry. FEI Company's Cryo-EM system is also used for the structural analysis of proteins. Thus, it will help expand Thermo Fisher Scientific's mass spectrometry offering and help it gain higher market share in the biopharma market.