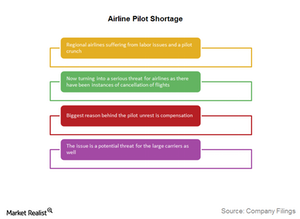 How Detrimental Is the Pilot Shortage Issue for Airlines?
By Ally Schmidt

Updated
Labor issues intensify
The regional airlines in the United States have been suffering from labor issues and a pilot crunch, which also threaten the health of the broader US aviation industry. Recently, Republic Airways, which operates flights for Delta Airlines (DAL), United Continental (UAL), and American Airlines (AAL), filed for bankruptcy protection due to the labor crunch.
Article continues below advertisement
Compensation is the biggest issue
The workforce in the airline industry has been fighting over a number of issues such as longer working hours, contentious relations with management, fewer job protections, and retirement benefits.
Regional carriers like Spirit Airlines (SAVE) pay much less than their legacy peers even though the regional sector accounts for half or more of all flying. Pilots have been demanding reasonable compensation, fair work-life balance, and stability.
US airline industry to suffer
While most of the airlines that are suffering from the labor crunch are mid-sized carriers, the issue is a potential threat for the large carriers as well. Large carriers such as United Airlines (UAL) and Delta Air Lines (DAL) depend on these mid-sized airlines to serve their rural consumers and to feed customers into their networks. If the pilot shortage isn't rectified soon, the industry could see a severe crisis.

Investors can gain exposure to airlines by investing in the PowerShares Dynamic Leisure & Entertainment ETF (PEJ), which invests ~30% in airline stocks.