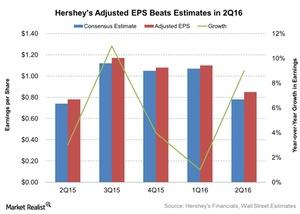 Hershey's Earnings Surpassed Estimates in Fiscal 2Q16
Earnings rose, beat estimates
Hershey (HSY) reported its fiscal 2Q16 earnings results on July 28, 2016. Later that day, management held a conference call to discuss the results. Adjusted EPS (earnings per share) came in around $0.85 for 2Q16, an increase of 9% compared to $0.78 in 2Q15. The company also exceeded analysts' estimates of $0.78 by 9%.
During the call, management mentioned that earnings for the quarter were better than expectations due to the segment's operating and marketplace performance and the company's progress in strategic initiatives.
Article continues below advertisement
Article continues below advertisement
Outlook for 2016
Analyst expectations for the second half of 2016 decreased slightly after the 2Q16 results. They now estimate earnings growth of 1% and 4% for 3Q16 and 4Q16, respectively, compared to earlier estimates of 3% and 6%, respectively. However, for fiscal 2016, analyst expectations remain the same at $4.24, an increase of 3% compared to $4.12 in fiscal 2015.
Analysts expect Hershey's peers ConAgra Foods (CAG) and Campbell Soup (CPB) to show earnings growth of 16% and 21%, respectively, for fiscal 2016. To gain exposure to Hershey, you can invest in the PowerShares S&P 500 Quality ETF (SPHQ) and the Vanguard Consumer Staples ETF (VDC). They invest 1% of their combined holdings in the stock.
Series overview
In this post-earnings overview of Hershey, we'll talk about Hershey's 2Q16 performance and how its segments contributed to its performance. We'll also talk about what led to the margin decline in 2Q16 and the company's expectations and new product launches in 2016.
Then, we'll see Hershey's recent increase in dividends and its stock price reaction to its earnings. We'll end the series with Wall Street's recommendations for the stock.
Let's start with Hershey's revenue increase for 2Q16.