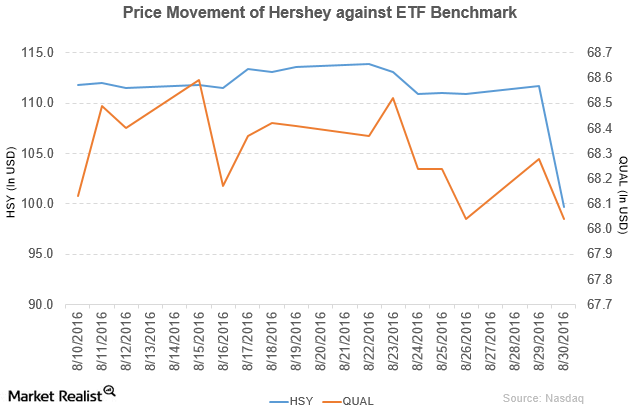 Why Did Hershey Fall by 10.8% on August 30?
Price movement
The Hershey Company (HSY) has a market cap of $21.3 billion. It fell by 10.8% to close at $99.65 per share on August 30, 2016. The stock's weekly, monthly, and year-to-date (or YTD) price movements were -11.9%, -9.7%, and 13.7%, respectively, on the same day.
HSY is trading 10.5% below its 20-day moving average, 7.9% below its 50-day moving average, and 6.4% above its 200-day moving average.
Article continues below advertisement
Article continues below advertisement
Related ETFs and peers
The iShares MSCI USA Quality Factor ETF (QUAL) invests 0.95% of its holdings in Hershey. The ETF tracks an index of US large- and mid-cap stocks, selected and weighted by high ROE (return on equity), stable earnings growth, and low debt-to-equity relative to their peers. The YTD price movement of QUAL was 5.4% on August 30.
The Vanguard Large-Cap ETF (VV) invests 0.08% of its holdings in Hershey. The ETF tracks a market cap–weighted index that covers 85% of the market capitalization of the US equity market.
The market caps of Hershey's competitors are as follows:
Latest news on Hershey
The Hershey Company continued its fall the for the second day on August 30, 2016, after Mondelēz International said no to the acquisition of Hershey.
According to Mondelēz's chair and CEO Irene Rosenfeld, "Our proposal to acquire Hershey reflected our conviction that combining our two iconic American companies would create an industry leader with global scale in snacking and confectionery and a strong portfolio of complementary brands. Following additional discussions, and taking into account recent shareholder developments at Hershey, we determined that there is no actionable path forward toward an agreement."
Article continues below advertisement
Performance of Hershey in 2Q16
Hershey reported 2Q16 net sales of $1.64 billion, a rise of 3.7% over its net sales of $1.58 billion in 2Q15. Sales from its North America and International & Other segments rose by 3.2% and 7.6%, respectively, between 2Q15 and 2Q16. The company's gross profit margin fell by 2.2%.
Its net income and EPS (earnings per share) rose to $146.0 million and $0.68, respectively, in 2Q16, compared to -$99.9 million and -$0.47, respectively, in 2Q15. It reported non-GAAP (generally accepted accounting principles) EPS of $0.85 in 2Q16, a rise of 9.0% from 2Q15.
Hershey's cash and cash equivalents fell by 27.8%, and its inventories rose by 16.0% between 4Q15 and 2Q16. Its current ratio fell to 0.68x, and its debt-to-equity ratio rose to 6.2x in 2Q16, compared to 0.83x and 4.1x, respectively, in 4Q15.
Projections
The company has made the following projections for 2016:
net sales growth of ~1.0%, including a net benefit from acquisitions and divestitures of about 0.5% and the unfavorable impact of one point from the foreign currency exchange rate
net sales growth of 2% on a constant currency basis due to macroeconomic challenges in China and low expected growth of the US CMG (candy, mint, and gum) category over the remainder of the year
adjusted EPS in the range of $4.24–$4.28, including a barkTHINS dilution of $0.05–$0.06 per share
For an ongoing analysis of this sector, visit Market Realist's Consumer Discretionary page.