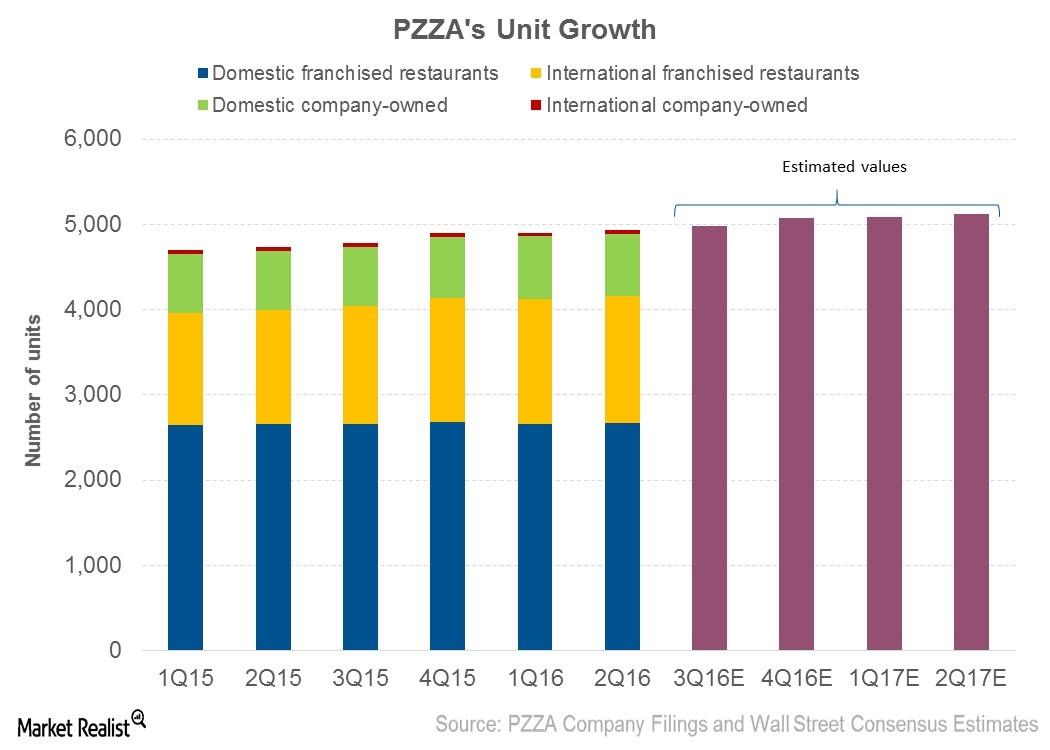 Franchising Dominates Papa John's Expansion Plans
Papa John's operations
By the end of 2Q16, Papa John's (PZZA) operated 4,935 restaurants. That included 734 domestic company-owned restaurants, 42 international company-owned restaurants, 2,668 domestic franchised restaurants, and 1,491 international franchised restaurants.
Article continues below advertisement
Article continues below advertisement
Unit growth
In the last 12 months, the company has increased its unit count by 201 units, from 4,734 to 4,935. During this period, the company has added 151 international franchised restaurants, 41 company-owned restaurants, and 15 franchised restaurants. Company-owned restaurants in international markets declined by six units.
In 2Q16 alone, the company has added 32 units, of which 20 were in international markets. This includes restaurants in Madrid, Spain, and Northeastern France.
Peer comparisons
In 2Q16, Pizza Hut, operating under the umbrella of Yum! Brands (YUM), added 84 new units. Domino's Pizza (DPZ) added 244 units.
Outlook for Papa John's
With 42 units added in the first two quarters of 2016, Papa John's has maintained its 2016 guidance for unit growth at 180–200 units. Company management stated that the development of 1,300 restaurants is in the pipeline, for which it has signed several new agreements in Western Europe. On its expansion plans, management said that 2016 would see a record number of new countries for Papa John's.
Management further added that it's in talks with potential parties to refranchise its 42 company-owned restaurants in China, which it expects to complete in 2016.
Next, we'll look at EBITDA (earnings before interest, tax, depreciation, and amortization) margins for Papa John's.