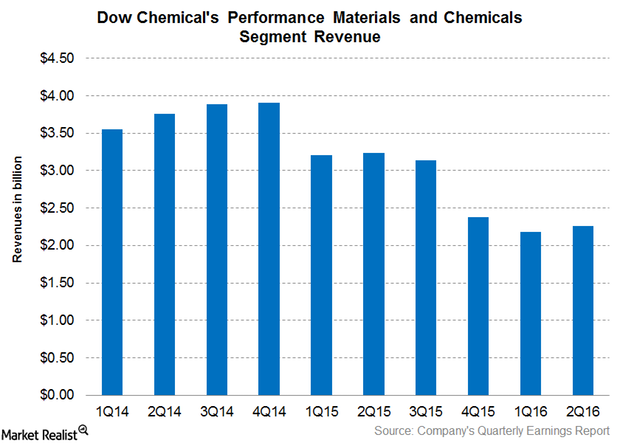 Why Dow's Performance Materials and Chemicals' Revenue Fell
By Peter Neil

Aug. 3 2016, Updated 11:06 a.m. ET
Dow Chemical's Performance Materials and Chemicals segment's revenue
Dow Chemical's (DOW) Performance Materials and Chemicals segment includes Dow's Chlor Alkali and Vinyl, Industrial Solutions, and Polyurethanes businesses. It also includes part of EQUATE (a joint venture between Dow Chemical and EQUATE Petrochemical Company), Kuwait Olefins Company, Map Ta Phut Olefins Company, and Sadara Chemical Company.
Performance Materials and Chemicals is the second largest revenue contributor to Dow Chemical's total revenue.
In 2Q16, the Performance Plastics segment reported revenue of $2.3 billion, representing 18.9% of Dow Chemical's total revenue. On a year-over-year basis, the segment's revenue fell by 30%.
During 2Q16, the Performance Materials and Chemicals segment posted operating EBITDA (earnings before interest, tax, depreciation, and amortization) of $301 million compared to $572 million in 2Q15. This implied a fall of 47.4% in operating EBITDA on a year-over-year basis.
Article continues below advertisement
Highlights of the Performance Materials and Chemical segment in 2Q16
Lower sales volumes impacted the segment by 19%. Volumes were negatively impacted by the divestiture of ANGUS Chemical company.
Geographically, the volumes of this segment fell in North America and EMEAI (Europe, the Middle East, Africa, and India). However, the segment witnessed growth in the Asia-Pacific region.
Lower prices impacted the segment by 11% due to lower raw material costs and competitive pricing pressures.
Dow Chemical expects this segment to grow as contributions from the Sadara project boost revenue in the second half of the year.
EBITDA was negatively impacted due to lower prices, lower volumes, and decreased equity earnings from joint ventures such as EQUATE and Kuwait Olefins Company.
Investors can indirectly hold Dow Chemical by investing in the PowerShares S&P 500 Quality ETF (SPHQ), which held 1.3% of its portfolio in Dow Chemical as of July 29, 2016. The other holdings of this ETF include Sherwin-Williams (SHW), Praxair (PX), and PPG Industries (PPG), with weights of 0.9%, 0.75%, and 0.63%, respectively.