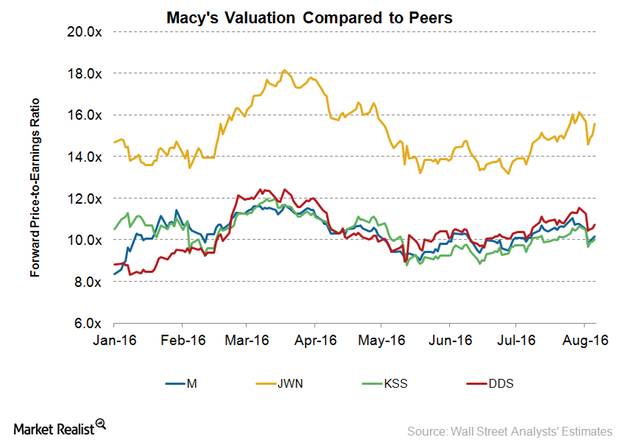 Comparing Macy's Valuations to Its Peers'
Macy's current valuations
In this article, we'll use the 12-month forward PE (price-to-earnings) ratio to assess Macy's current valuation and compare it with its peers'. As of August 5, Macy's was trading at a 12-month forward PE of 10.2x. The company has been trading at a forward PE in the 8.4x–11.7x range since the start of 2016.
The 12-month forward PE ratio is influenced by many factors, including expected growth in earnings and risks and uncertainties.
Article continues below advertisement
Comparison with peers
Macy's peers Nordstrom (JWN), Kohl's (KSS), and Dillard's (DDS) were trading at 12-month forward PEs of 15.6x, 10.0x, and 10.7x, respectively. As of August 5, Macy's valuation multiple was lower than the S&P 500 Index's valuation multiple of 17.9x and the S&P 500 Index's valuation multiple of 17.5x.
Analysts expect Macy's 2016 sales and adjusted EPS (earnings per share) to fall by 5% and 14%, respectively. Currently, analysts expect Macy's sales to remain flat in 2017 and its adjusted EPS to rise by 4%. Macy's constitutes 0.4% of the Consumer Discretionary Select Sector SPDR ETF (XLY).
Analysts expect the adjusted EPS of Nordstrom, Kohl's, and Dillard's (DDS) to fall by 22%, 4%, and 13%, respectively. Analysts expect JCPenney to deliver adjusted EPS of $0.07 in 2016 compared to EPS of -$1.03 in 2015.
Macy's growth strategy
Macy's is focused on expanding in the off-price space, which features strong players such as TJX Companies (TJX). In May 2016, the company disclosed that it had already opened six in-store Backstage stores and planned to open nine more in 2016.
The company will also strengthen its beauty business by opening 22 in-store Bluemercury shops by 4Q16. Macy's expects to roll out its enhanced jewelry department concept to over 350 stores by the end of 2016.
In July 2016, Macy's announced the launch of Thalia Sodi intimates in its stores and online channel. The company also partnered with Lady Gaga and Sir Elton John to create a limited-edition line of clothing and accessories called Love Bravery. Macy's is also investing in its digital channels to enhance the consumer shopping experience.
Despite the above-mentioned efforts, Macy's sales growth in the near term is likely to be affected by lower-than-expected consumer spending and heightened competition from online retailers and off-price retailers.
For more updates, visit our Department Stores page.