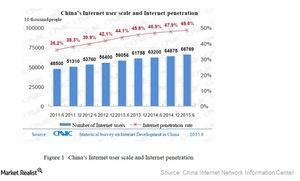 Why Is Comcast Targeting China?
Comcast is targeting China
Considering the rising popularity of English language content around the world, US media companies are increasingly focusing on international markets such as China (FXI). Comcast (CMCSA) considers China a market that will generate a significant profit for the company in the long term.
Comcast stated in the company's fiscal 2Q16 earnings call that until about four years ago, the company was making nothing in China. But last year, it earned around $170 million in China through movies and television.
Article continues below advertisement
Article continues below advertisement
At a JPMorgan Chase (JPM) Global Technology, Media, and Telecom Conference in May, Comcast said that its movie Furious 7 earned $400 million at the Chinese box office, which is more than it earned in the United States. Comcast also stated that considering the success of its movies in China, the company is distributing its movies there through its own distribution team in the country.
Comcast is planning a theme park in China
Comcast is also planning to open a theme park in Beijing, China, by 2020. According to a South China Morning Post report citing the consulting firm Aecom, China is expected to be the world's largest theme park market by 2020, surpassing the United States. In 2015, theme parks in China attracted around 111 million visitors. This number is expected to almost double to about 221 million visitors by 2020.
Comcast recently acquired DreamWorks Animation (DWA) for $3.8 billion. DreamWorks Animation is already present in China with Oriental DreamWorks, which produces Chinese animation films.
English language content in China is becoming increasingly popular due to the rising Internet penetration in the country. According to a January 2016 report from the China Internet Network Information Center and as you can see in the above graph, China had a total of 668 million Internet users and an Internet penetration of 48.8% in June 2015.