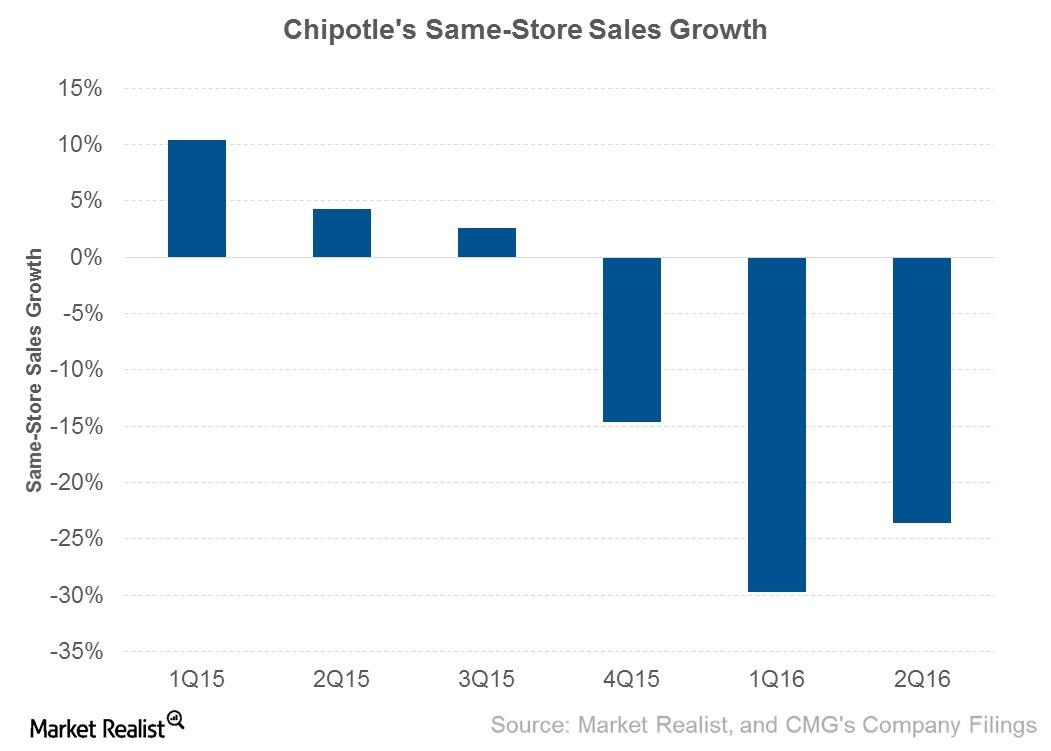 What is Chipotle Doing to Come Back from the E. Coli Crisis?
Dwindling sales
After an E. Coli outbreak in October 2015, Chipotle Mexican Grill (CMG) has taken several measures to improve its same-store sales growth. The latest is a promotional offer launched on August 29, 2016, targeting students in the back-to-school season. Before going into the details of the offer, let's see why Chipotle's same-store sales are declining.
After the October 2015 E. Coli outbreak and other food safety issues, Chipotle customers became skeptical about the quality of food being served at the company's restaurants. This led to a decline in same-store sales growth and revenue.
Article continues below advertisement
Article continues below advertisement
As you can see in the above graph, Chipotle's same-store sales growth turned negative in 4Q15 when the company was struck by the food safety issues. The outbreak not only dented Chipotle's Food with Integrity image, but also led to a decline in its share price. Since October 2015, Chipotle stock has fallen more than 40%.
Enhanced food safety measures
To regain the loyalty of its customers, Chipotle has implemented enhanced food safety procedures. These included the following:
high-resolution DNA-based testing
new food handling and preparation processes
enhanced food safety training program for the crew
third-party audit of its food safety procedures
Along with these procedures, Chipotle undertook aggressive marketing and promotional programs focused on communicating its new food safety processes. We'll take a closer look at those in the next part of this series.
Chipotle Mexican Grill (CMG) wasn't the first company to be hit by food safety issues. Earlier, Jack in the Box (JACK) and Taco Bell, which is owned by YUM! Brands (YUM), also experienced E. coli outbreaks at their restaurants. However, both companies have recovered from the damage and have won their customers back.
Chipotle, McDonald's (MCD), and Starbucks (SBUX) form 8% of the holdings of the Consumer Discretionary Select Sector SPDR ETF (XLY).