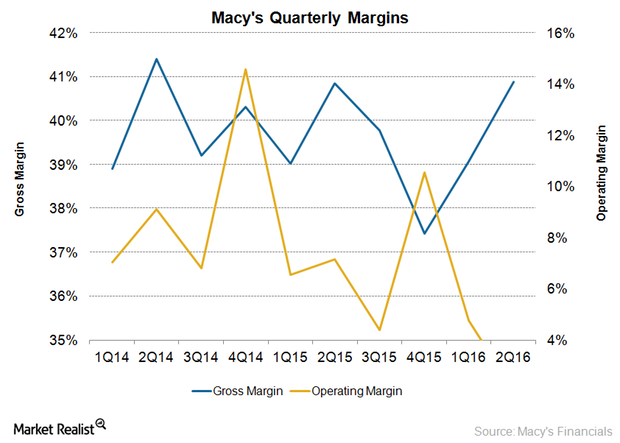 What Caused a Decline in Macy's 2Q16 Margins?
Margins in 2Q16
Macy's (M) gross margin remained flat in fiscal 2Q16 ended July 30, 2016. However, the company's operating margin declined on a year-over-year basis. Macy's gross margin in 2Q16 remained unchanged at 40.9% compared to 2Q15.
The company's gross margin benefited from a lower-than-expected decline in 2Q16 sales. The 2Q16 gross margin was also favorably impacted by the company's Last Act strategy for clearing its end-of-season merchandise.
Article continues below advertisement
Article continues below advertisement
Operating margins decline
Macy's operating margin fell to 2% in 2Q16 from 7.1% in 2Q15. The company's operating margin in 2Q16 was negatively impacted by $249 million in charges related to asset impairment and other charges related to planned store closings, which we discussed in Part 1 of this series. The 2Q16 operating margin was also hit by non-cash settlement charges of $6 million associated with the company's retirement plans.
The company's operating margin in the quarter was favorably impacted by asset sale gains of $21 million. The benefits of Macy's restructuring efforts on its 2Q16 operating margin were offset by higher expenses to support the growth of the company's online business and a reduction in credit income. The iShares Global Consumer Discretionary ETF (RXI) has 0.3% exposure to Macy's.
Kohl's (KSS) operating margin declined to 7.2% to 2Q16 from 9.9% in 2Q15. This decline was primarily due to $128 million of expenses related to store closures and corporate restructuring.
Nordstrom (JWN) delivered an operating margin of 6.1% in 2Q16 compared to 10.2% in 2Q15. This decline can be attributed to an unfavorable comparison with 2Q15, which included a gain of $64 million associated with the sale of the credit card portfolio.
JCPenney's (JCP) operating margin improved to 2.6% in 2Q16 from -1.3% in 2Q15, driven by higher sales and the company's cost control measures.
Productivity measures
Macy's (M) continues to implement measures to improve its profitability. We discussed the company's plan to close unprofitable stores in Part 1 of this series. To improve its gross margin, the company has expanded its Last Act clearance strategy beyond the apparel category to other areas like handbags. The company expects to expand this strategy to shoes later this year.
We'll discuss the impact of Macy's 2Q16 results on its valuation in the concluding part of this series.