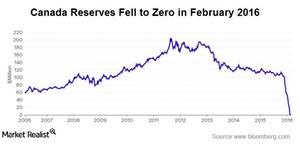 Why Canada Cut Its Gold Reserves
Liquidating gold reserves
Canada has been among the largest gold producers in the world. However, the country saw its gold reserves drastically fall to zero in February 2016. The country's finance department disclosed that the country sold off nearly 22,000 ounces of gold coins in February.
Canada's gold reserves peaked in 1965, with the valuations of almost $1.2 billion in gold bullion and coins. It gradually began to sell gold at a controlled pace to enhance returns with the proceeding invested in the interest-bearing assets.

Article continues below advertisement
Article continues below advertisement
Interest-bearing assets
Canada is now the only G7 (Group of Seven) nation that does not hold at least 100 tons of gold in its official reserves. According to statistics from the World Gold Council, Canada's current holdings would now rank it last of 100 central banks—behind Albania, which is ranked 99. However, the footnote in the finance department's report said the government still has 77 ounces of the precious metal.
The Bank of Canada's reasoning behind selling its gold was a "long-standing policy of diversifying its portfolio by selling physical commodities [such as gold] and instead investing in financial assets that are easily tradable and that have deep markets of buyers and sellers." The Bank of Canada thus exhibits a preference toward yield-bearing assets over non-yield bearers like gold.
Investors may also get into the same dilemma as the US offers higher interest on Treasuries. The interest rate decisions of major economies around the world would impact not only precious metals but also the mining industry. Mining funds like the Sprott Gold Miners (SGDM), the Global X Silver Miners (SIL), and the iShares MSCI Global Gold Min (RING) have increased in 2016 with the growing likelihood of delays in a US interest rate hike.
Now it's time to head south to Venezuela.