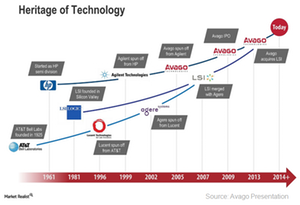 Broadcom: A Product of Several Mergers and Acquisitions
Broadcom's debt position
In the previous part of the series, we learned that Broadcom (AVGO) has a huge debt burden on its balance sheet, which it used to fund the semiconductor industry's biggest merger of $37 billion in 2015.
Broadcom now has a net debt-to-adjusted EBITDA (earnings before interest, tax, depreciation, and amortization) multiple of 4.5x, which it looks to reduce to 2x before thinking of any other M&A (mergers and acquisitions) transactions.
Article continues below advertisement
Article continues below advertisement
A look at M&As
M&As aren't new for Broadcom. The company has a history of successful M&As, and the most recent Avago-Broadcom merger is its biggest M&A deal to date.
Avago was founded in 1961 as a semiconductor division of Hewlett-Packard (HPQ). It was separated from HP when Agilent Technologies split. The company acquired its individual status and the name Avago in 2005, when Silver Lake acquired Agilent's semiconductor division.
In 2009, Avago sold a division to PMC-Sierra that was later acquired by Microsemi (MSCC) in early 2016. As Avago, the company made several acquisitions and divestitures. In 2013, it acquired optical chip supplier CyOptics and storage company LSI. In 2015, it acquired storage networking company Emulex. In the meantime, it sold its few divisions to Intel (INTC) and Seagate Technology (STX).
Broadcom's 2016 M&A activity
In early 2016, Avago completed its merger with Broadcom, adopting the latter's name and the former's ticker. The combined company started offloading noncore assets, and in fiscal 2Q16, it signed agreements to sell its IoT (Internet of Things) business to Cypress Semiconductor (CY) and its wireless infrastructure business to MaxLinear (MXL).
With these divestitures, Broadcom looks to repay $1 billion of its $25 billion of debt. The company's priority is to reduce its debt to the tune of around $10.5 billion before it considers any more acquisitions.
If Broadcom reenters the M&A game, RBC analyst Amit Daryanani expects that the company will target larger players such as Maxim Integrated (MXIM), Xilinx (XLNX), or NXP Semiconductors (NXPI). However, any new acquisitions are way down at the bottom of Broadcom's list of priorities at present.
Let's take a look at Broadcom's stock's performance post-merger.