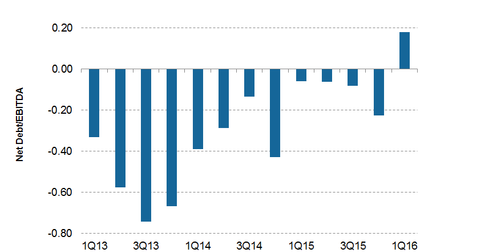 Why Boeing's Increasing Leverage May Mean Higher Risk
By Ally Schmidt

Updated
Increasing leverage
Boeing operates in a highly capital-intensive industry. Technological obsolescence makes it imperative to invest in R&D and come up with new products, after which new production lines have to be set up. All of this simply means a very high gestation period.
It is no wonder that Boeing has turned to debt to help finance its growth. For 1Q16, Boeing's leverage remained constant at a total of $10 billion. BA's total debt-to-EBITDA has increased from 0.92x at the end of 2Q15 to 1.1x at the end of 1Q16.
Article continues below advertisement
Its peer Airbus has a higher leverage with a total debt-to-EBITDA ratio of ~2.2x and a net debt-to-EBITDA ratio of approximately -1.5x. At the end of 1Q16, its defense peers Lockheed Martin (LMT) had a net debt-to-EBITDA ratio of ~2.0x, United Technologies (UTX) of ~1.8x, and General Dynamics (GD) of 0.32x.
Cash flows provide respite
The good news is that Boeing has sufficient cash to pay off its debt. Boeing's cash on the balance sheet stood at $8.4 billion at the end of 1Q16. It also generated $1.2 billion in cash flow from operations in 1Q16 as compared to the $8.9 billion CFO generated in 2014.
Boeing has used some of this cash to repay debt. Despite this, Boeing's net debt-to-EBITDA ratio has also increased from -0.06x at the end of 2Q15 to 0.18x at the end of 1Q16.
Outlook 2016
For 2016, Boeing expects its operating cash flow to be ~$10 billion. It also plans to increase its manufacturing capacity to 65 aircraft per month by 2017, which will require additional investment.
BA's major clientele includes airlines, which is a cyclical industry. Airlines have witnessed increased profitability in the last two years due to huge fuel savings. However, it is just a matter of time until fuel prices rebound. The oil price rise on July 21 gave some indication of this.
At such a time, companies with high leverage are deemed more risky. If industry fundamentals deteriorate, it may result in order cancellations for BA, bringing its balance sheet under stress.
Boeing forms 4.5% of the PowerShares BuyBack Achievers Portfolio ETF (PKW).