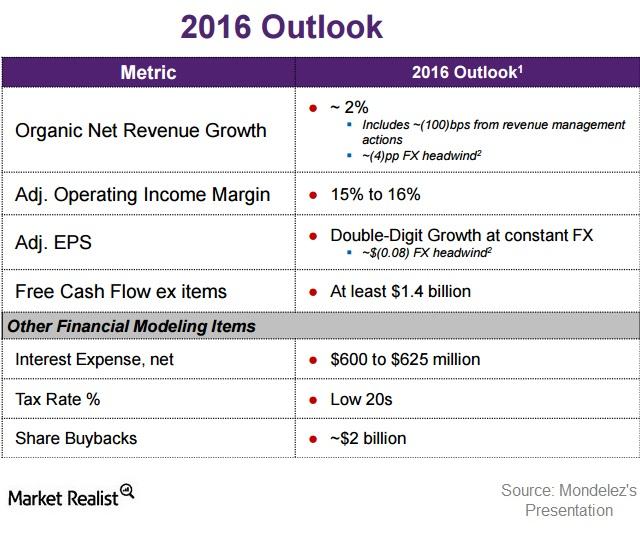 What's Mondelez's Outlook for Fiscal 2016?
Outlook for 2016
Mondelez (MDLZ) provided its fiscal 2016 outlook during the second quarter earnings call. The company reduced its estimate for organic net revenue growth to ~2%. The reduction was due to more challenges in global categories along with the impact of 100 basis points from revenue management actions. Now, it expects a currency headwind impact of 4 points on revenue—more than the 3 points expected earlier. This estimate is based on current exchange rates and the impact of the Brexit vote on the company's United Kingdom-based earnings.
Article continues below advertisement
Operating margin and EPS expectations
The adjusted operating profit margin is expected to be 15%–16%. The company plans more investments in the third quarter and higher margins in the fourth quarter. It estimates double-digit growth in adjusted EPS (earnings per share) on a constant currency basis. Now, this estimate includes an impact of $0.03–$0.05 per share aided by strong operating profit growth, strong performance in coffee joint ventures, and lower interest expenses. The negative effect of currency translation is expected to be $0.08 more than the earlier estimate of $0.05.
Other expectations
Mondelez expects the interest expense to be ~$600 million–$625 million and the fiscal 2016 tax rate to be in the low 20% range. Free cash flow is projected to be least $1.4 billion.
Peer J.M. Smucker's (SJM) EPS is expected to be $7.72 for fiscal 2017. ConAgra Foods (CAG) and General Mills' (GIS) EPS is expected to be $2.41 and $3.11 for 2017, respectively. To gain exposure to Mondelez, you can invest in the First Trust NASDAQ-100 Ex-Technology Sector IndexSMFund (QQXT) and the First Trust NASDAQ-100 Equal Weighted IndexSMFund (QQEW). These funds invest 3% of their combined holdings in the stock.
New launch in China
Along with the second quarter results, the company also announced that it would enter China's $2.8 billion chocolate market through the Milka brand in September. The brand will hit shelves along with some special editions created specifically for seasonal occasions in China. Stephen Maher, the president of Mondelez China, mentioned that "The strength of our iconic Milka brand, combined with a winning recipe uniquely designed for Chinese consumers gives us great confidence that we'll be successful with chocolate in China, too."