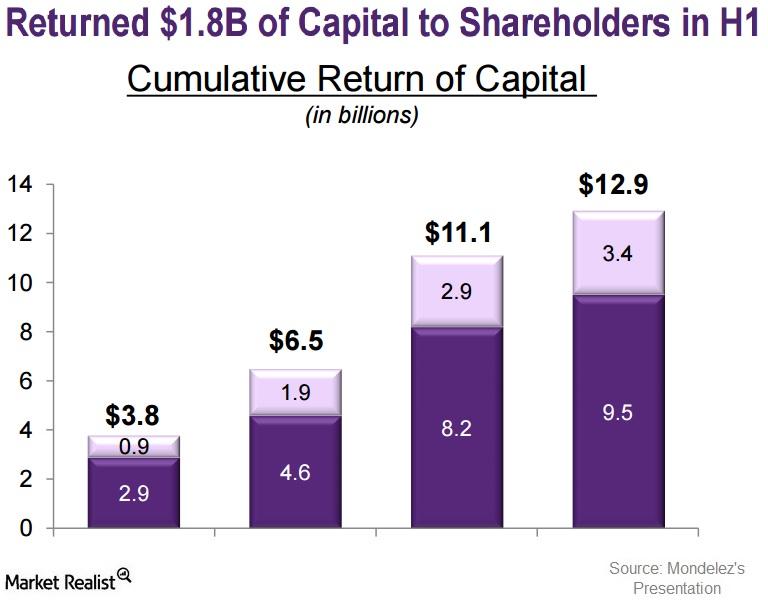 What's Mondelez's Increased Dividend for 2016?
Increased dividend
A week before its 2Q16 results, Mondelez International (MDLZ) declared a 12% increase in its quarterly dividend. The company targets a dividend payout of 30% in 2016. The increased quarterly dividend of $0.19 per share of Class A common stock will be paid on October 13, 2016, to shareholders of record on September 30, 2016.
Article continues below advertisement
Returns to shareholders to date
In 1H16, Mondelez has returned more than $1.8 billion to shareholders through dividends and share repurchases. Mondelez paid a total of $537 million in dividends alone for the first six months of 2016. In 2015, it paid $1 billion in dividends.
Over the last three years, the company has returned $13 billion in capital to shareholders. This includes ~$3 billion in dividends and more than $8 billion in share repurchases. Mondelez has a dividend yield of 1.6% as of July 19, 2016. The company's management decreased its dividend at a CAGR (compound annual growth rate) of 15% over the last five years.
Share repurchases
The company purchased $1.3 billion of its stock at an average price of about $41.07 for the first six months of 2016. The company still expects to buy back ~$2 billion of shares in fiscal 2016. In 2015, it bought back $3.6 billion of stock—this is ~92 million shares at an average price of $39.43 per share.
Peers' dividend yields
Mondelez's peers in the industry include Hershey (HSY), J.M. Smucker (SJM), and Kellogg (K). As of July 27, their dividend yields are as follows:
Hershey – 2.1%
J.M. Smucker – 1.9%
Kellogg's – 2.4%
The iShares S&P Global Consumer Staples ETF (KXI) invests 1.9% of its portfolio in Mondelez. The PowerShares QQQ Trust (QQQ) invests 1.3% of its holdings in Mondelez.