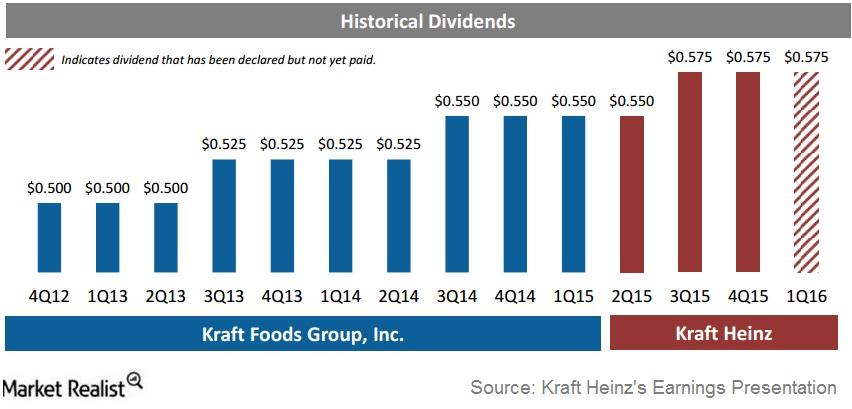 What's Kraft Heinz's Outlook for 2016?
2016 outlook
Kraft Heinz's (KHC) management discussed its fiscal 2016 outlook during its last quarter's earnings call. The company remains on track or ahead in its areas of integration, which are its organization structure, zero-based budgeting, and manufacturing footprint.
A target of $1.5 billion of cost savings net of inflation is estimated to be fully realized by the company in 2017. KHC also projects $1.9 billion worth of pretax profit and loss costs, including $1.1 billion in cash. $1.1 billion worth of capital expenditure is expected from Kraft Heinz's integration program.
The company has an optimistic outlook for the second half of 2016, and it expects to see stronger EPS (earnings per share) and better margins in 2H16. This comes on the back of a good start to 2016 and an expected earnings rise from KHC's refinancing of its preferred stock in June.
The company continues to lay the groundwork for the white-space expansion of both the Kraft and Heinz brands. This expansion will be in the food service and international channels.
Article continues below advertisement
Article continues below advertisement
Recent dividend declared
A day after the 1Q16 earnings release, Kraft Heinz declared a regular quarterly dividend of $0.58 per share on its common stock. This dividend was paid on July 8, 2016, to shareholders on record as of May 27, 2016.
Kraft Heinz has a dividend yield of 2.6% as of July 27. The company has paid $1.15 per share in dividends to date in 2016. Kraft Heinz plans to balance deleveraging with a consistent dividend payout.
The company increased its quarterly dividend by 4.5% on November 5 to $0.58 from its prior dividend of $0.55 per share. The first increased dividend was paid on November 20, 2015, to shareholders on record as of November 16, 2015.
Peers' dividend yields
Below are the dividend yields for Kraft Heinz's peers as of July 27, 2016:
Campbell Soup Company (CPB) has a dividend yield of 1.9%.
ConAgra Foods (CAG) has a dividend yield of 2.1%.
The First Trust NASDAQ-100 Ex-Technology Sector ETF (QQXT) and the First Trust NASDAQ-100 Equal Weighted ETF (QQEW) invest 1.5% and 1.0% of their portfolios, respectively, in Kraft Heinz.
We'll wrap up the series in the next article with Wall Street analysts' recommendations and target prices for Kraft Heinz.