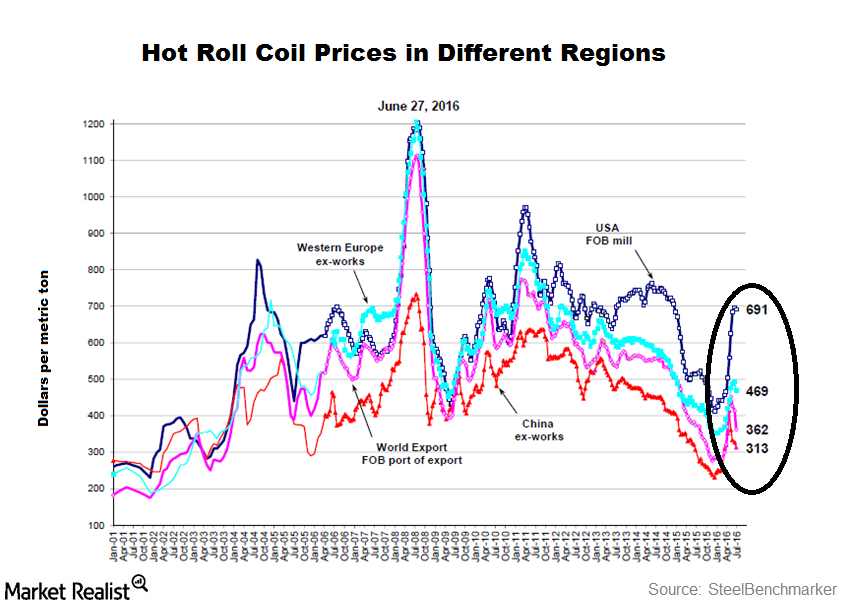 Why US Steelmakers' Party Might Not Last Long
US steelmakers
Unlike copper and aluminum, which are widely traded on the LME (London Metal Exchange), steel is more regional in nature. The pricing is determined by buyers and sellers. Although some trading activity does happen on exchanges, steel products are immune from the day-to-day volatility that we see in other industrial metals. Due to trade cases, the US steel industry has turned into a virtual island largely immune to global steel prices—at least in the short term.
Article continues below advertisement
Overcapacity
Amid the jubilation in the global steel industry, the key issue of overcapacity hasn't been addressed. Overcapacity could prompt steel mills to produce more of the metal. This could put pressure on global steel prices. We have already seen an increase in Chinese steel production as companies started to produce more steel to take advantage of higher steel prices.
In the United States (DIA), while Nucor (NUE) and Steel Dynamics (STLD) have taken advantage of higher steel prices and increased spot sales, U.S. Steel Corporation (X) and AK Steel (AKS) still have some of their capacities offline.
Price differential
Having said that, the issue of massive overcapacity is like a hanging sword for the US steel industry. For now, the US steel industry has managed to keep some of the overcapacity away from US borders through trade cases. Over the medium to long term, the country can't prevent steel buyers from accessing cheaper steel in international markets.
Furthermore, the differential between US and international steel prices has widened. You can see this in the above graph. The rising differential would act as an incentive for steel buyers to tap international markets for their needs. We already saw a small uptick in steel imports as noted in the previous part of the series.
Meanwhile, we started to see some downward pressure on spot steel prices. We'll discuss this in the next part of the series.