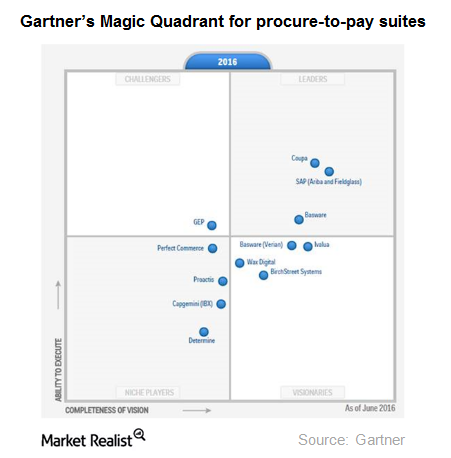 SAP Is Again a Leader in Gartner's Magic Quadrant
SAP's Ariba and Fieldglass were ranked as Leaders
On July 26, 2016, SAP (SAP) announced that that it was, once again, ranked as a leader by Forrester Research. SAP Ariba was ranked as a "Leader in Contract Life-Cycle Management for Buy-Side Contracts" by Forrester.
In the recent past, SAP Ariba was ranked as a leader by Gartner too. In late June 2016, SAP Ariba—along with SAP Fieldglass—was placed in the Gartner's Leaders Magic Quadrant for Procure-to-Pay Suites, again, as the presentation shows.
On recognition of SAP Ariba as a leader, Alex Atzberger, President of SAP Ariba, said, "We are honored to be recognized as a leader for SAP Ariba's capabilities and will continue to innovate in collaboration and compliance for contract management."

Article continues below advertisement
SAP's Ariba
SAP Ariba, which is focused on supply chain management, falls under the company's Business Network segment. Apart from Ariba, SAP markets and sells the cloud offerings developed by Fieldglass and Concur. (Later in this series, we will discuss the performance of SAP's Business Network segment.)
In May 2012, SAP acquired Ariba for $4.3 billion. Ariba is an online marketplace and business commerce network having a significant presence in cloud-based collaborative commerce apps. As the presentation shows, approximately 2.2 million companies conducted transactions worth $820 billion on the SAP Ariba network in fiscal 2Q16.
In 2014, SAP bought Concur for $8.3 billion. Concur Technologies was a travel and expense management software provider. In 2Q16, more than 42 million end-users availed travel and expense services with Concur.
Fieldglass
SAP stated in its 2Q16 earnings release that "customers managed over 2.6 million flexible workers in approximately 130 countries with the Fieldglass platform over the past 12 months."
SAP acquired Ariba, Concur, and Fieldglass to expand its footprint in cloud space. Cloud computing is a rapidly growing multibillion dollar space with huge potential, which has prompted software companies like Oracle (ORCL), Microsoft (MSFT), IBM (IBM), and SAP to go either for strategic acquisitions or for huge investments to shift their business models toward cloud computing.
In fact, it's the growing competition and concentration in cloud space that forced Oracle to announce the acquisition of NetSuite for $9.3 billion on July 28, 2016.