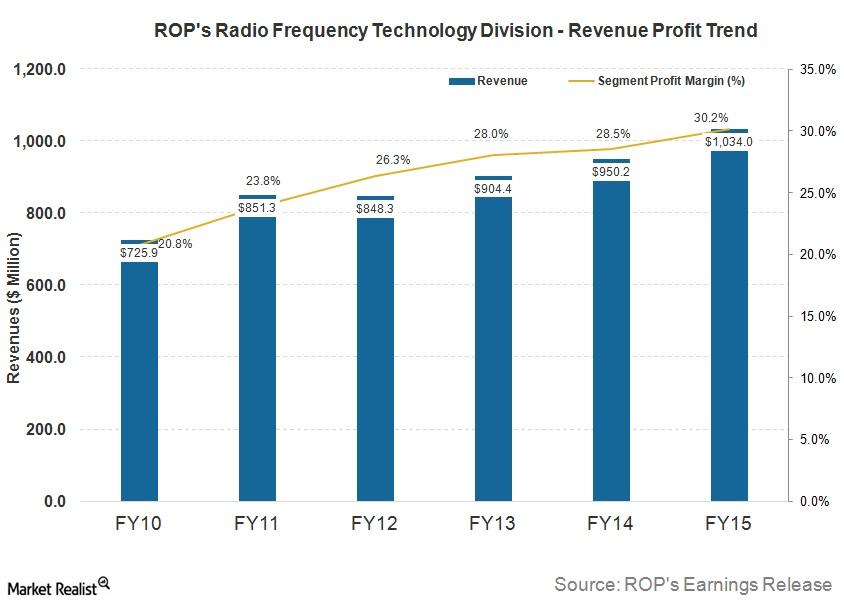 ROP's Second-Largest Segment: Radio Frequency Technology
By Jessica Stephans

Jul. 12 2016, Updated 11:06 a.m. ET
About Roper Technologies' Radio Frequency Technology segment
In 2015, Roper Technologies' (ROP) Radio Frequency (or RF) Technology segment contributed ~28.9% to its total consolidated revenue and ~30.4% to its consolidated operating profit, with an operating margin of 30.2%. From 2010 to 2015, the segment's revenue and operating profit have risen at CAGRs (compound annual growth rate) of 7.3%, and 15.7%, respectively.
The RF Technology segment consists of toll and traffic systems, card systems, integrated security systems, radio frequency identification cards, and comprehensive management software, metering, and remote monitoring.
Under ROP's RF Technology segment are ten major brands including Aderant, CBORD, DAT Solutions, and Horizon Software International. The RF Technology segment's end markets are toll and traffic systems and the freight, food, metering, and monitoring industries.
Article continues below advertisement
RF Technology division backlog
ROP's RF Technology segment's orderbook stands at $538.9 million in terms of orders that will be recognized within a year. Its net orderbook stands at $1.0 billion. In 2015, its orderbook-to-bill ratio was 0.99x. From 2013 to 2015, its net orderbook rose at a CAGR (compound annual growth rate) of 4%.
Some facts about the RF Technology segment
The RF Technology segment's companies have high lead times. The lead time has increased to several months on many of its product sales. The segment's standard products are shipped within two weeks of the receipts of orders.
In 2015, the segment's orderbook stood at $1 billion. The orderbook rose at a CAGR of 4.2% from 2013 to 2015. The segment's backlog consists of blanket purchase orders. Blanket orders consist of multiple delivery dates over a period of time. They're often negotiated by customers to take advantage of predetermined pricing, and they're normally used when there's a recurring need for expendable goods.
ROP makes up 7.1% of the PowerShares Water Resources ETF (PHO). Investors will benefit if ROP shows strong operating performance in 2016 and continues paying dividends.
Pentair (PNR), Water Corporation (WAT), and American Water Works (AWK) are among the top ten holdings of PHO. They account for 8.8%, 8.0%, and 8.0% of the fund, respectively.
Let's understand more about the RF technology industry in the next article.